A
funky and smooth saxophonist
Women saxophonists in music history were to some extent excluded from this male dominated field. But with the passage of time gender wasn't an issue. Women saxophonists moved into the scene steadily to disrupt this dominant gender ideology. Kathy Stobart is a stand out and soon there were others – Vic Redd, Candy Dulfer, Pamela Williams, Layla Angulo, Kaori Kobayshi, Mihiko Abe, Mindy Abair, Melissa Aldane – the list is long....
Alto
Currently in Sri Lanka is the exciting alto saxophonist Dumbira Lippez from Bogota, Colombia taking the music to another level with her warm talented saxophone, and her control over what she wants to play. And hear her you must! Dumbira performs at the Lattice, Taj Samudra, Tuesdays through to Sundays and if you are looking for a nightspot to chill out – then catch Dumbira in action. She has a magical repertoire that lasts for four hours daily and if the occasion demands she can go through with an eight hour repertoire. You'd be amazed at the selection of songs with which she entertains you. In the bag are hits from the Beatles song book, the Bee Gees, John Denver, Elton John, hits from folk rock sheets, ballads, famous sheets of jazz standards and more.
Meeting her for the first time the thought hits you that she's a pianist or a guitarist and not a saxophonist. Why did you choose the sax and not any other instrument?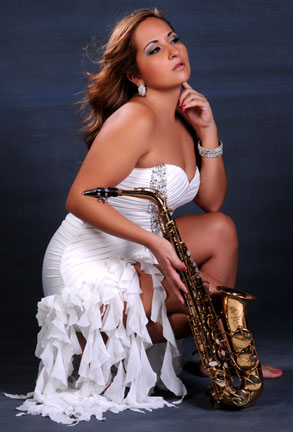 Actually my passion was to play the oboe. I did three semesters but you won't believe me, in Columbia somebody stole my oboe and I had to change the instrument in college. Then I chose the saxophone, continued my career with the sax and finished my degree in music, studying the sax."
A degree in music in Columbia what did your study involve?
"We learnt the technique of the instrument – how to play the instrument, how to play any type of music – local or international, improvisation and how it works. You are taught the music language – how to read music, write music, compose music. We learn the history of musicians and their works."
After you finished college did you branch out and join a band or an orchestra and continue your playing?
"I taught for a while at the University but I also joined the University orchestra, the jazz ensemble and played in the topical orchestra. In Columbia they have many topical music orchestras playing not pop music but Latin music in different styles. We have 5 regions and each region has its own music. I travelled in my childhood and the desire to perform out of Columbia urged me to accept a performance date in the Emirates and this was in 2006, when I performed with a four piece band. Our program was Latin music – salsa, bossa nova, bolera and merengue. When I came back I worked as a soloist. In 2012 I met with an agent from India and he gave me the opportunity to travel and perform alone. This was a challenge and I enjoyed playing as a soloist.
Blues
Dumbira's style in playing the saxophonist is entertaining.
An evening with her at the Lattice will drive away your blues. She covers a variety of hits with smooth simplicity. Be it pop or funk there is joyfulness in her performance and she gives you the opportunity to relive your favourite hits and go home with memories. Her interaction with the audience is cool. "I love to travel, I love to meet people and I enjoy the food in Sri Lanka."
Asked if she had a chance to live her life all over again would she choose to be a musician. Her answer was emphatic.
"I will. I believe with music we are better human beings. Not only in playing and interpreting the music but you acquire a better understanding of human beings and as a performing musician you meet a wide spectrum of human beings."
---
MUSIC DAY 2016:
" La musique plus forte que…
/ Music stronger than …"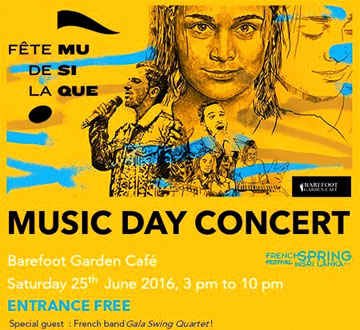 The International Music Day 2016 will be celebrated on the 25 June 2016 in the superb courtyard of Barefoot Garden Café. On this occasion, a number of bands and artists will entertain all audience performing songs and enthralling rhythms, ranging from traditional Kandyan Rhythm to jazz and pop music.
From 3pm to 10pm, pop music, jazz, traditional music, percussions and world music artistes will succeed each other on stage for the greatest pleasure of all. This year's program will feature Famous music bands including NAADRO, THE SLIPPING CHAIRS, FUNK AVENUE, ESHANTA DE ANDRADO, RAVIBANDHU VIDYAPATHI & GROUP.
In the evening, at the peak of the event, French band GALA SWING QUARTET, brought along for your entertainment by the Embassy of France to Sri Lanka and the Maldives and the Alliance Française de Kotte, the ONLY Alliance Française in Colombo accredited by the Alliance Française Foundation and the Embassy of France, will perform gipsy jazz music, inviting Sri Lankan renowned band NAADRO to join them on stage to share a moment of music fusion.
Initiated by the French Ministry of Culture in 1982, Music Day has become a most-attended event worldwide. Every year in June, celebrating the beginning of summer, music lover and professional musicians invade the streets in Europe and come together to perform freely. Last year, 120 countries and 700 cities all around the world have organized concerts and gathered about 10 million music fans.
---
Graceful Melodies
To raise funds for flood relief:
The Ambassador of Vietnam to Sri Lanka and the Maldives Phan Kieu Thu and Sri Lankan Soprano Menaka De Fonseka Sahabandu will raise funds for flood relief with a concert Graceful Melodies at the Russian Centre, 10 Independence Avenue, Colombo 7.
Ambassador Phan has gained a name for herself among both Sri Lankans and the diplomatic community for her ability to sing in eight languages including Sinhala, Russian, Spanish and Korean. She holds a B.A in Russian Literature and Language alongside an M.A in Public Policy. She is now completing a Ph.D in Economics. It was only in September last year that she performed to raise funds for a housing project for people in need.
Menaka De Fonseka Sahabandu a Fellow of the Trinity College London and a Licentiate of the Royal Schools of Music London is a well known Singer, Pianist, Violinist, music director and choral director who has performed both here and abroad. She has been teaching Piano and Singing for 32 years and is presently a Lecturer at the University of Visual and Performing Arts. Menaka has been featured as soloist with the Symphony Orchestra of Sri Lanka many times as Pianist and Singer and she has performed in several operas both here and abroad.
Don't miss this delightful evening of music when Ambassador Phan Kieu Thu and Menaka will enthrall you with renditions of songs such as You Raise Me up, Fly me to the Moon and some Sri Lankan and Vietnamese favourites amongst others. Collaborating with them at this concert are well known musicians Sureka Amarasinghe and Dhanuksha Seneviratne. Tickets will be available at the Russian Center.
---
Gala Swing Quartet for French Spring Festival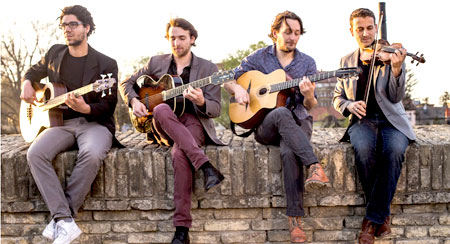 The gypsy jazz band Gala Swing Quartet who is on tour in Sri Lanka as part of the annual French Spring Festival will perform at the Galle Face Hotel on June 24, 2016 at 7pm.
The gala Swing Quartet comprises four young French musicians from Aix-en-Provence in the South of France; Alexis Desmarais (guitar), Alexandre Florentiny (acoustic bass), Gaspard Doussière (violin) and Tom Valdman (guitar). Accustomed to playing in the streets as well as in concert halls, the band entertains their fans with a blend of original compositions and arrangements of jazz hits standards by Stéphane Grappelli and Django Reinhardt, and also with a touch of funk and a touch of groove.