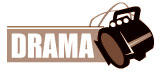 Comeback for Gotaimbara Kolama
Gotaimbara Kolama a novel theatrical experience written and directed by young playwright Dennis Perera will be presented again as an open air performance at 'Ape Gama' Battaramulla (Jana kala Kendraya) at 7 pm on June 25.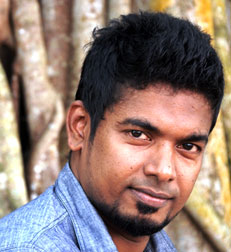 The story line of Gotaimbara Kolama which takes the influence of Kolam and Shanthi Karma (ritualistic dance for curing illnesses and offering blessings) is acted out by the nayaka thuma (leader) similar to a consistent character appearing in old 'kolam' dramas and the theme is a traditional ritual for the advancement and well being of the country.
Gotaimbara Kolama is an attempt to develop a new dramatic form and language for Sri Lanka. The play identifies with the ultra-complex life of an average Sri Lankan, whose mental universe consists of devils, goblins and demons, and whose political fate is governed by planetary movements. The playwright and director, Dennis Perera thinks it cannot be interpreted by a form of art in current theatre plays, which is deprived in contrast, to the richness of life of an average Sri Lankan, and lacks dramatic values. Therefore, to address the demands of the extensive mindset of a modern theatregoer, a performance with communication that goes beyond verbal intelligence, understanding art in the Sri Lankan context, not purely mundane, and an act which can be naturally appreciated and savoured by Lankans is desired.
Gotaimbara Kolama, a political comedy containing diverse meanings at different tiers is written and directed by Dennis Perera, a young film maker and a director. It's a play produced by the Hippie Tribe Theater Group and presented by November Production. The cast includes, Amila Sandaruwan, Dhanuska Dias, Nilanka Dahanayeke, Nino Jayakodi, Dilum Buddhika, Pradeep Ramawickrama, Chaminda Dissanayeke, Pramod Edirisinghe and Shalitha Dissanayake.
The play is enriched with: choreography by Sankha Jayalath, lighting by Dr. Chandana Aluthge, and costume designs by Thisara Imbulana. Sunethra Bandaranaike Foundation are the sponsors,while production manager is Anuradha Kodagoda, publicity, Chandana Prasanna and the background design by Milindu Randika and Chathura Dissanayeke.
---
Three dramas make a return

Dayananda Gunawardena's 'Bak Maha Akunu', a drama which made a significant impact on the history of Sinhala theatre will go on boards after a lapse of over 40 years at the Dayananda Gunawardena Commemoration Festival to be held later this month. The operetta will come alive on June 26, 2016 at 3.30 p.m. and 7.00 p.m. at the Lionel Wendt Theatre.
Gunawardena's much loved 'Naribena and Jasaya saha Lenchina', and 'Madhura Javanika' will be also be staged on June 24 and 25 respectively at this festival.