Women's experience and knowledge need to be incorporated in policy making :
Empowering women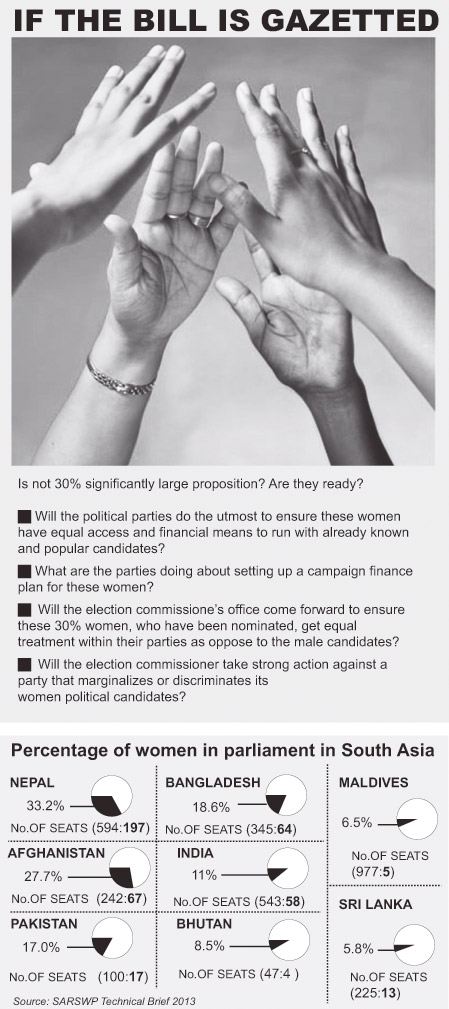 The proposal by the Ministry of Provincial Councils and Local Government to allocate 30 percent of nominations to female candidates to contest in the upcoming Provincial Council Elections mandatory, has met with mixed reactions by activist groups.
The dual approach taken by the government regarding women's political representation was criticized by national level activists, who highlighted the need for a strong national policy regarding the issue. While many welcomed the move, some activists cautioned against abuse of the quota to push forward family members of male politicians and other close allies.
At present, women account for under six percent of seats in Parliament, a small fraction of elected representatives in Sri Lanka . Even though women in Sri Lanka have enjoyed voting rights since 1931, the current percentage of 5.8 percent in Parliament, and two percent in Municipalities and Local Governments, are amongst the lowest in South Asia, including Pakistan and Afghanistan.
"The current statistics show that the female nomination percentage is in between 6-8 percent in mainstream political parties, therefore a 30 percent quota for nominations is a positive step," Kumudini Samuel, Program and Research Associate of Women and Media Collective said. However, Samuel is critical of the dual approach taken by the authorities in trying to increase female representation.
The proposed Bill to be presented in Parliament will amend Sec 13 of the Provincial Councils Elections Act, No. 2 of 1988, to include the number of female candidates required "notwithstanding any provisions to the contrary in this Act, not less than thirty per centum of the total number of candidates whose names appear in each nomination paper… shall consist of female candidates."
Earlier this year, the Act on Local Authorities Elections was also amended to ensure that a 25% quota for women be included in the Local Authorities Elections Ordinance. However, the quota allocation is not in the nominations list. According to the regulation passed as an amendment to the Local Authorities Amendment Act on February 17, this year, there will be two lists for local government elections. The nominations list will not have a specific quota allocation for women. Instead the regulation has introduced a new list, similar to the parliamentary national list, which would nominate female candidates to fill 25% quota of the seats won by each political party. This method does not require women to contest, thus limiting their political exposure.
The dual approach employed by the government is receiving criticism from some activists who claim direct participation as candidates is far better in terms of empowerment and normalizing females in the political space.
"It would give a better sense of responsibility for the female candidates as well as the society to choose their representatives well", said Samuel.
At grass-roots level however, the women's activists were divided on the approach taken to improve women's representation. Some were cautious about the proposed change to 30% nomination quota. Although some preferred the 25% quota through a separate list for women politicians, which did not require them to contest, many welcomed the guaranteed quota in nominations lists.
Ethayaran Sithravel from Women's Action Network in Trincomalee commended the action explaining that women in her area had always wanted to take part in active politics, but were not given nominations. "The chauvinist politicians didn't allow women to contest in elections. Now, with the quota, they don't have a choice but to give nomination for women"
However, she briefed that political parties could nominate their family members which would tantamount to nomination of the elite, while the ordinary women are neglected. "I also fear by nominating inexperienced women, the men could use it to strengthen their chances of getting elected," she said.
On the other hand, a social activist in Jaffna, Anushani Alaagarajah is hopeful that if women get in large numbers to run for election, even though there be favoritism, it would still give hope and motivation for them to contest next time. "The 30% nomination quota or the 25% representation list would still not solve women's issues, unless political parties corporate genuinely."
"The government is backtracking on their position," Shreen Abdul Saroor from Mannar Women's Development Federation said. The reserved seats for women at every level of electoral process was discussed as an affirmative action to bring parity to decision making and legislature processes and, she conferred that Sri Lanka is in transformation after the war and women's experience and their knowledge need to be incorporated into every policy and law that will promote an equal and non-discriminatory society.
"We saw the quota, as the current government's effort to fulfil, as part of its post war trust building efforts, as opposed to the nomination quota, she said.
While Sri Lankan political parties speak of empowering women in practice most male politicians are strongly prejudiced against female candidates. The Sri Lanka National Human Development Report 2014 states that 74% of the politicians believed that women should be in politics but "it is not the right place" for them.
The sometimes violent intensely confrontational nature of Sri Lankan political campaigns is a further bar to women's participation.
---
UNP – 30% is not a problem
UNP has a large number of women engaged in various levels of activism affiliated to the Lak Vanitha Organisation, a branch of the UNP, party general secretary, Minister Kabir Hashim said they are delighted to engage more women in active politics. As a party, the UNP is ready to accommodate more women in politics, which was the main reason for introducing the 30% quota, he added. As part of the process to involve more women into politics, the political set up needs to be changed, abandoning the competitive proportionate electoral system which demands large amounts of money to carry out a vigorous campaign.
Giving out reasons for UNP not giving nominations for women, he said, in addition to the political structure, political culture played a significantly negative influence. "As much as any other party, the UNP didn't have an obligation to give nomination to women specially, and considering the political context in Sri Lanka, the popular opinion was that men could carry out harder campaigns and gain more votes, so the UNP, as other parties, gave in to that notion," he explained, and added, when carrying out campaigns, the candidates have to travel widely, face the opposition fiercely and the whole country thought that men are better equipped to do that, "even though we all knew it wasn't enough."
---
SLFP
SLFP General Secretary, Mahinda Amaraweera was not available for comment on their party position on accommodating a 30% nomination quota for women in the Provincial Council elections.
---
JVP – Including women was never a problem
JVP has always encouraged female participation in active politics and are prepared for the proposed 30% quota in nominations for women, JVP General Secretary Tilvin Silva said.
However, he added that there are worse problems to be solved in Provincial Council elections, such as the 5% cut out point of votes, and said, "we are in the process of discussing with the Elections Commissioner and will call for an all party discussion soon."
---
'Joint Opposition' – Women will contest whenever the government holds elections
The UPFA has been advocating a quota for women representatives in politics and are fully supportive of the initiation, the Leader of the Joint Opposition Dinesh Gunawardena said.
During the previous regime, he said, several proposals were brought forward to increase female participation in politics, and the change in the election system, i.e. the proportionate representation, was an attempt to convert it into a system that is more feasible for women candidates.
"The Proportionate Representation system compels a candidate to cover a large geographical area, with higher expenditures and fierce competition, and despite this, some women still contested and won elections. But the change in the system would allow more women to contest in the elections," he said and added that it is the task of the government to hold the elections without continuing to postpone them.