Lanka, A Narcotic TRANSIT HUB?
Sri Lankan authorities responsible for the control of narcotics are finally admitting, albeit reluctantly, that the country is now a hotspot for trafficking drugs. Over the years, many anti narcotic organisations have identified the country as a transit point for drug trafficking, but the authorities have been reluctant to fully accept the fact. However, the recent cocaine bust has put things in perspective, says National Dangerous Drugs and Devices Control Board (NDDCB) Chairman Dr. Ravindra Fernando.
Added to this, complaints about drugs confiscated, as evidence in drug related offences ending up in the drug market again, has raised alarm bells within the authorities. Investigations have finally begun to determine where the loopholes are. Government agencies tasked with the controlling of drug trafficking and usage in the country are also unsure of the procedures followed to destroy court evidence, Sunday Observer learnt. While the incinerator which was set up to destroy confiscated drugs as per international standards remains out of order, the Police Narcotics Bureau (PNB) just flushes the drugs down the toilet.
How serious is Sri Lanka's drug problem?
The NDDCB believes around 1,000 - 2,000 people become first time drug addicts each year. According to Dr. Fernando, there are an estimated 45,000 heroin users in the country at present, while the number of cannabis users hover around 200,000. However, according to statistics only one per cent of the country's total population are in fact using drugs of any kind.
"Today, there is a fear among the public that drugs and intoxicants will cause the eventual deterioration of our society" said Jagath Wijeweera, Secretary, Ministry of Law and Order. According to Wijeweera therefore, the government has a special focus on drug eradication and is working towards making Sri Lankan society free of all illicit drugs.
In recent times, the country stepped up efforts to eradicate drugs through the control of illicit narcotics by law enforcement agencies such as the Police Narcotic Bureau (PNB) and the Sri Lanka Customs as well as prevention by providing education and awareness by agencies such as the NDDCB.
According to the NDDCB drug arrests increased by 1.5 per cent in 2014 compared to the previous year, with the Police nabbing 67, 025 suspects for drug related offences. The seizure of drugs by law enforcement agencies is one of the main indicators used to access the level of illicit drug trafficking, they opined.
Back to the market
However, while drug busts have seen a significant increase, accusations against various law enforcement agencies, particularly the Police have been rife, to the effect that some of the drugs nabbed are finding its way back to the market. Chairman NDDCB, Dr.Fernando said, his organisation too has received many complaints in this regard. "NDDCB is looking into these allegations" he said, adding that the Board is set to gather information from courts in this regard and develop a proper system.
"While an incinerator was established at the Medical Faculty, University of Colombo to destroy seized drugs, it is no longer functioning" he said, and that they are unsure about what methods are used to destroy confiscated drugs at present.
The Police claim, normally, when ordered by court the confiscated drugs are dissolved in water and flushed down the toilet. "By the time cases are concluded the drugs have turned into hard blocks, so we have to break them down and dissolve them" a police source who wished to remain anonymous said, adding that generally, it is carried out within the court premises. He also claimed he is unaware if the incinerator was ever used, while this was the accepted method of drug disposal by law enforcement, the world over.
Dr. Fernando said Sri Lanka has now been established as a transit point for drug trafficking, a fact the Police has been reluctant to admit. This has been proven through the recent detection of the large haul of cocaine, while the International Narcotic Control Board too has recognized the fact, he said. "Such a large haul of cocaine cannot be for the Sri Lankan market which proves that the country is a transit hub for drug trafficking," he said.
Dr. Fernando says drugs such as, cocaine and heroin are generally smuggled in to Sri Lanka from Pakistan, India, Myanmar and Afghanistan from where they find their way to Europe. "Currently, we are planning to join with Asian countries to establish a drug trafficking information centre which will help the country to combat illicit drug trafficking", he said. He said, Sri Lanka had good contacts with other countries, as was seen in the recent case where Brazil too took prompt action to nab those involved in shipping the drugs into Sri Lanka.
Schoolchildren
Sri Lanka has also faced difficulty in curbing the sale of various intoxicants and drugs to schoolchildren as most of these are tobacco based.
The Director General, NDDCB, K Gamage says, that there has been no evidence of such products having any negative effect on children. "We, through our research have not found any negative effects of such products, however, long term use can be a risk to one's health due to tobacco found to cause oral cancers" he says. "For example Hans, a tobacco based product is legal in India but awareness campaigns are carried out due to its link to oral cancer" he says.
Usually a suspect nabbed for the sale of tobacco based drugs to schoolchildren is released by the courts as the sale of tobacco is not illegal under existing Sri Lankan laws. Dr. Fernando said "Therefore we are waiting for approval by the Attorney General to implement the Anti-Tobacco and Drug Act" he says, adding that those selling such items to children will be penalized under this law, once enacted.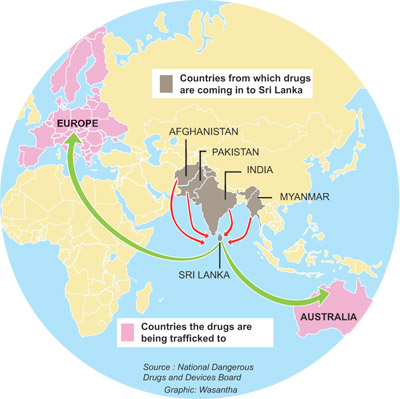 According to Gamage the NDDCB carries out island wide awareness campaigns throughout the year for schoolchildren, parents and educators which have been very effective. He says it can be seen by the decrease in numbers of drug and tobacco use among schoolchildren while awareness among parents has been heightened. The NDDCB has outreach programs targeting schools and also train teachers on identifying drugs and other such products, as well as on how to tackle such issues among children. "We have joined hands with the Education Ministry, with the Ministry adding a section on drug abuse in the local syllabus, aiming at its eradication " he said.
Rehabilitation
Currently the NDDCB operates five treatment and rehabilitation centres island wide which provide services free of charge for drug dependents. Generally, the treatment period is six months according to Dr. Fernando, who says the NDDCB educates the addicts on the negative impact of drug use while also providing them psychological support. "Unfortunately, some do relapse despite our efforts" he says adding that the success rate of the programs is 50 per cent.
New Steps
When asked as to why there is a 50 per cent relapse rate Dr. Fernando says, it generally depends on the surroundings of the patient. "Some tend to go back to the same environment and same friends" he says. To mitigate this issue the NDDCB attempts to find employment for many of its clients while some are also given vocational training during their time at the centres.
Despite all these efforts Sri Lanka still has a long way to go to combat drug use and trafficking. According to the NDDCB Chairman a new National Policy on Drug Eradication will be presented to the President today. The National Policy on Drug Eradication has not been revised since 2005, he said.
"This policy therefore is a more updated version and will specify what each government agency must do to contribute to the drug eradication effort", he said.
"The policy has been drafted with the aim of making the country drug free by 2020', he said.
NDDCB has also decided to conduct a National survey to obtain better statistics on drug use and other related information. "Most statistics are obtained through our research and police records as well as information from other agencies" he said.
"Drugs are consumed secretly, so we are unable to tell exactly how many users are there in the country" he said, adding that the Board will have a better picture once the survey concludes.
Recently while the Traffic Police too looked into purchasing roadside drug detection machines to nab persons driving under the influence of drugs, the project has currently stalled due to the cost of the machines required.
"We are looking to buy drug detection scanners which can instantaneously detect the composition of a substance" said Dr. Fernando adding, that each machine will cost around Rupees 1.6 M.. However, we will purchase a few of these machines in the near future as it is much needed to combat the drug menace, he said.
---
"Rescue, don't punish"
A majority of convictions in Sri Lanka are due to drug addiction, which has caused over crowding in prisons. Correction facilities in Sri Lanka are taking significant steps to include social welfare to support people with addiction, instead of punishing, to minimize prison overcrowding. Commissioner of Prisons Operations, Intelligence and Security, Thushara Upuldeniya highlighted that "addiction is not exactly a crime, compared to other criminal activities."
According to latest statistics available, 46% convictions are for narcotic offences and 5% for being drunk in public places. From all the convictions, only 38% have been for other crimes. As part of the program to reduce prison over crowding the authorities are also looking into the healthcare of the people addicted.
Many countries in the world have made the UN International day against drug abuse and illicit trafficking a platform to talk about controlling or eradicating drugs, but not many countries and governments pay attention to people who use drugs, their rights, and health issues, economical and social impact to the country. As part of the new campaign against drug abuse, the UN has launched a new global advocacy campaign calling for better drug policies that prioritise public health and human rights. Titled " Support.Don't Punish", the campaign aims to promote drug policy reform, and change laws and policies which impede access to harm reduction interventions. The Campaign is trying to raise awareness among the population aligned with the following key messages:
The drug control system is broken and in need of reform People who use drugs should no longer be criminalized People involved in the drug trade at low levels, especially those involved for reasons of subsistence or coercion, should not face harsh or disproportionate punishments
The death penalty should never be imposed for drug offences Drug policy in the next decade should focus on health and harm reduction By 2020, 10% of global resources expended on drug policies should be invested in public health and harm reduction.
The harms caused by the war on drugs can no longer be ignored. It's time to leave behind harmful politics, ideology and prejudice and work towards improving the lives of drug users as they are also human beings with dignity.
---
'Listen First'
Sri Lanka, along with the rest of the world, will mark International Day against Drug Abuse and Illicit Trafficking under the theme, 'Listen First' in a state ceremony today presided over by President Maithripala Sirisena and other dignitaries.
According to the UN, under this year's theme and the 'Listen First' campaign conducted by the organization, adults are encouraged to listen to children and youth to help them grow in a healthy and safe environment which in turn will keep them away from illicit drug use.
The international Day against Drug Abuse and Illicit Trafficking was first declared by the United Nations on December 7, 1987. Having recognised the negative impact of illicit drugs on the well being of humanity, while also undermining socio economic and political stability, will seek to further intensify the efforts to eradicate the drug menace the world over.
The state ceremony this year will importantly see the presenting of the new National Policy on drug control to President Maithripala Sirisena which will set out the role of each government agency in eradicating drugs within the next five years in a bid to step up measures to curb the drug menace in Sri Lanka.