I wanted to be a dancer - Jezima Ismail, educationist
The throb of village drums, colourfully dressed women singing folk songs while pounding rice harvested from their small paddy fields, the call for prayers by the local mulla intermingling with the sound of cow bells and children's laughter; these memories still constantly flash in Jezima Ismail's mind, despite having spent most of her eighty years of life in Colombo."They are songs rooted in the culture of my village of Sainthamarutha", she reminisces. Afraid these catchy songs of her childhood would be mired under layers of modern culture and lost forever, she says, "I am now recording them so I can showcase them for future generations."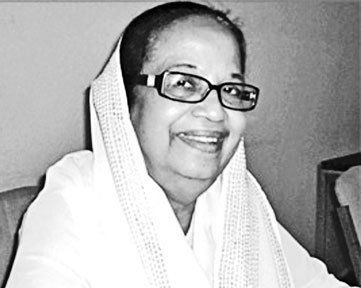 Not surprising, it was this small village, two miles from Kalmunai in the Ampara district that dominated most of our conversation when I met this extraordinary educationist, campaigner for women's empowerment, peace and reconciliation among other things at her present residence at Kynsey Road, Colombo, recently.
"It was where I was born and where I first attended school (Carmel Convent, Kalmunai). Even when I can't be there physically, I re-visit this beloved childhood village constantly in my thoughts," she said.
Elegantly dressed as always, in an off white lungi, a hijab covering her head, her face is remarkably youthful, her eyes clear and very focused, her skin smooth and unlined. Still recovering from the loss of her life time companion and husband of over fifty years, Prof. Mahroof Ismail who passed away last month, she says it is memories of childish games she played with her late husband who also lived at Sainthamurtha when she was a pre-schooler that keeps her being positive even at this low ebb of her life. "We played hopscotch, hide and seek, marbles together even though my presence was not always welcome. In fact (by his own admission in his tribute on their golden wedding anniversary two years ago,) Mahroof would often deliberately trample my toes so I wouldn't join him and his friends at play. They thought I was a little nuisance. But even then I had a mind of my own. I kept badgering them till they finally gave in, notwithstanding the fact that I was an 'invisible presence' as they made it a point to ignore me", she smiles her eyes tearing at the memory.
20th century
Talking to her it was evident that her fondest memories belong to the 20th century, a time when she was growing up in her beloved village at the edge of Kalmunai.
Familiar village scenes crowd and merge in a kaleidoscope of colours, scents and sights. She recalls the vivid colours of the tie and dye saris woven by the women who wore them wherever they worked - at home, and at the market place where they sold their home made products. " We called them Kathankudy muruthan sarees or somana saris. They had squares with green and white borders (this style is coming back now). Their necks were adorned with red and black beads. I loved looking at their clothes and especially their jewellery. When our family shifted to Colombo, I began looking for them in all the ethnic shops I visited here but have never found them. Perhaps they too have disappeared under the welter of high fashion, like most other things that belonged to the 20th century," she says sadly.
Scents
The smell of jasmines from potted plants at her Kynsey residence in her home evokes the perfume of her favourite flowers. "All the women in my village wore jasmines in their hair. I followed their example and wore jasmines in my hair even when I was teaching," she recalls.
Her taste buds still tingle and mouthy, waters at the memory of 'Suruttu sweets 'unique to her village and to the past century. "They were made of sugar and dipped in red home made colouring and shaped like chillies. They were so 'deleecious'! We couldn't wait for the toffee cart man who had a brisk business down our lane alone as all the houses were connected and almost everyone was related and had extended families".
Souvenirs
She brings out treasures from her past: an old couch, an antique chest, a rusted spittoon, an enormous brass bowl used for making conjee which her family often made and shared with the rest of the village, ladling spoons. When my eyebrows lift in askance at the large piece of wood standing sentinel near her entrance, she hastens to explain, " It is from my village. All the houses used to barricade their front door with similar planks. I now use it for the same purpose." An antique piano, given by her father when she had turned fifteen stands in a corner of her dining room. "I used to play on it until my late husband started playing the piano. He was a superb pianist so I just stopped playing as I was no match for his rare talents", she admits. She however obliged us with a few bars from Brahms which she played with much emotion.
Music and dancing
"I was the youngest of three girls. My father wanted each of us to learn a musical instrument and oriental dancing (Manipuri and later Bharathanatyam) as there was no western dancing then. So he got down teachers from India who taught us the veena, harmonium and violin. I loved music, dancing and drama. If I had my way I would have been a singer or dancer." Those poignant childhood memories influenced many of her decisions in later years.
Academic
Commenting on her chequered academic career, she says, "My father was an irrigation engineer, ( the first Muslim engineer) and was transferred to different parts of the island. I had my nursery education at Kalmunai, my primary and part of my secondary education at St Bridget's Convent, Colombo. When the war broke out I was transferred to St Vincent's Girls High School, Batticaloa. When I look back, I had most of my education in the North Central and Eastern Provinces."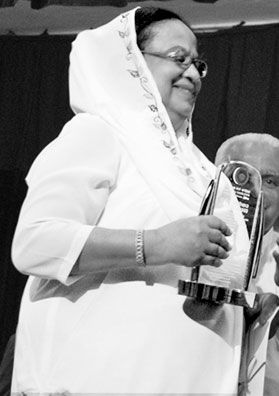 She recalls that how her father, wanted his three girls to have an all round education.
"He got down tutors to teach us at home when we were very young and later sent us to the best private schools (there were no state schools then. ) He also encouraged us to do extra curricular activities and lots of outdoor sports.
He also influenced my choice of a career. It was my father who insisted I become a teacher after I left the university. I remember when I told him I wanted to be a singer and dancer he said, "Absolutely not. Take up a teaching post in any school you wish".
Education then and now
As an educationist who critically evaluated the progress of her students and was personally involved in the classroom even as a principal, she thinks one of the biggest drawbacks in the present system is that children have no time for play.
"When we were little, as soon as we returned from school we used to go outside and play till it was dinner time. We didn't have much homework as we finished most of it in school. The teachers were both dedicated, and disciplined . If you came unprepared for a lesson you were punished. But they were also our best friends. We could approach them with our problems and they would take time to counsel us. They became part of our family circle".
She admits she carried those childhood impression of the early forties into her own teaching career. "In the 1960s I wrote some recommendations after evaluating the education system during a research study on teaching methodology. I feel they are valid even now, as teachers today are not doing enough to encourage students to be more creative. They should be more pupil focused and Principles should devote more time for classroom teaching so as to get to know their students well, she says.
University
In the early fifties, she became one of the first few Muslim women to enter the Peradeniya University.
Her experiences of ragging, she recalls as being, 'fun'. "We were ducked into the swimming pool, or had to recite poems. Till now most of us freshers and seniors keep in touch ( those few still living!) and share our experiences down the years."
It was while at the University that Jezima also showed her talents in table tennis and badminton when she even managed to get university colours while playing against her husband's team (he was the badminton captain and coach) in Colombo.
When modern technology found its way to her district, one of the first things her village got was a transistor radio. "The women loved it. They used to tie it to the horns of the bulls which they took to the fields so that they could dance to the songs!" she says giggling at the memory...
Her most frightening moment?
"The 1983 riots. I was then Principal of Muslim Ladies College, Colombo, and was seated at my desk when I saw this huge truck full of drunken persons stopping outside the school.
When I went out, they told me our school would be the next target for the bonfires they were starting all over the city. I immediately contacted my friends at the Sri Lanka Broadcasting Corporation to help me and they did. It broke my heart to see how all our dreams of a Sri Lankan identity for which I had long been fighting for, simply went up in flames that day in our beautiful paradise island.".
Activist
Even before 1983, Jezima says she had been on a personal mission for peace and reconciliation. I started PAFREL after I read about the JVP violence in 1966, and have since, tried to get people of different ethnic groups to sit down and discuss this problem and how we can win the trust and faith in others and learn to hope again".
Her happiest day?
"Marrying Mahroof. I was five years and he, ten years when we became childhood playmates. Our fifty years of marriage was able to withstand every obstacle in our way. I thank God for having given me a husband who was my friend and counsellor with whom I shared everything," she says with emotion.
As a campaigner for gender equality I ask her, "If you had a choice, would you have liked been born as a woman or man?" She replies without hesitation." Definitely a woman.
Living in a patriarchal society is a big challenge to women. But as in Sri Lanka they comprise more than half the labour force and are also more literate, I am convinced they have the capacity to keep the balance well, because they are equipped for that task".
Future plans?
"Now that I have reached the age of eighty, I don't want to take on more responsibilities and would like to spend time with my grandchildren... It's time for younger people to take on leadership posts. I am always ready to share my knowledge with them".
I ask her the secret to her healthy longevity.
"Live simply. Be positive. Eat healthy. And have blind faith in God," she says.