UN Special Rapporteur to assess minority rights issues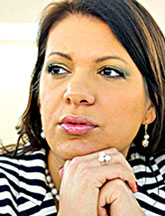 The United Nations Special Rapporteur on minority issues Rita Izsak will arrive in the country tomorrow and continue her stay till October 20 to assess the current situation of national, ethnic, religious and linguistic minorities in the country, the UN Office of the High Commissioner for Human Rights said in a statement.
"Experience has shown that the recognition and promotion of minority rights are critical, if not requisite, in achieving long-lasting peace and reconciliation, particularly in countries such as Sri Lanka that were once divided by ethnic conflicts," the expert said in a report.
"Considering the long-standing grievances that were at the root of the 25-year civil war in Sri Lanka, any effort towards accountability and reconciliation must include a careful examination of the extent to which the rights of minorities are protected and promoted in the country."
During her mission, the Human Rights expert will also travel to North and East to meet minority communities to hear their concerns and issues. She is also expected to meet government officials, civil society members and members of the Human Rights Commission.
She cited that her visit is to assist the Government and Sri Lankan society at large in identifying challenges and solutions, as well as sharing experiences at this critical time for Sri Lanka.
She will present her preliminary findings and recommendations at a press conference on Thursday, October 20 and will present her full report on the mission, to the UN Human Rights Council in March next year.