Politics Unpacked
Cricket, Marx, N.M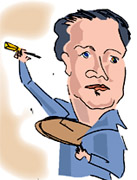 So much is being said about N. M. Perera these days. Vasudeva Nanyakkara sees it as a validation of his Mayoral bid to claim that the late N. M. Perera was Mayor of Colombo, which the UNP claims is its own impenetrable fortress.
Michael Roberts, scholar and cricket-pundit is not offering bets on the Mayoral race, or cheering for the 'Vasu candidacy', but last week he was seen drawing more parallels between totally UNP types such as the late Gamini Dissanayake, and the late Dr. Perera.
He said, ''both of them were former Presidents of the Cricket Control Board.'' Now, can Vasu run for that post too?
Designated editing
First, there was the Americanism 'president elect'.
Someone recently got smart here in this country, and called some people 'Editors designate.' There are some writers designate also - some of them are moonlighting in the broad acres of the media, both establishment and non-establishment. The rationale being, if one is only designate, who cares for designations?
Fallout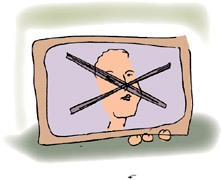 Whatever happed to the golden boy of a private television station? We are not telling, but suffice to say, what an unceremonious ditching that was.
It resembled on of those newspaper insertions made by firms and corporate bodies that have to disassociate themselves with former staffers with singular determination.
You know, the kinds of adverts that say: ''so and so is no longer in our employment and we shall not be responsible for their dealings'' etc etc.,
Gone to court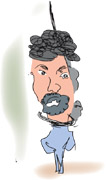 While people are embroiled in a controversy, valid or otherwise, about the content of a movie by a maverick director with a controversial past, cinemas - some top drawer ones in some of the big cities along the southern coastal belt - closed down without so much as a soft moan from those interested in the arts.
With cinemas going under due to lack of patronage or lack of concern by the patrons of cinematic arts, one may as well ask, where will they screen movies in the future, including those controversial ones that end up in court? Will lawyers suggest that they project them onto parchment?
Ogollo, bogollo
The UNP is a house of lawyers, but you'd be amused over the fact that there weren't many black-coated types who were willing to take up the matter of the in-house inquiry into the conduct of ex UNPer Rohitha Bogollegama.
Most of them probably thought why mess with the UNP's housecleaning? A question that becomes more pertinent, considering that Bogollegama, whether one likes it or not, is walking the corridors of power while their own idols in the party are taking a long snooze upon opposition benches.
Owner proprietor and all else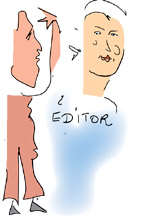 It was chastening to know, at least for some patronising press- wallahs in this country, that while they think press freedom has flourished here in this land (my land) it has flourished exponentially in other global locations.
One freer-than-thou press type, was chiding a demure lady Editor from a territory that belonged to the former U.S.S.R. He said with a patronising smirk on his face "so it is nice to know that there are lady Editors in the country that only had Pravda and papers and the wall.''
Without batting any of those pretty eyelids, the lady shot back ''I am not just the editor, I own my newspaper as well.''Exits one deflated scribbler.