A perfect all-rounder

Aravinda is a second year student of the department of Computer Science and Engineering at the University of Moratuwa. Though he is physically in Colombo, his soul is in his school and in Bandarawela. Aravinda is a product of S.Thomas College, Bandarawela, Aravinda has been one an all rounder, both academically and socially.
Aravinda won the class prize many times. His school career academically has always been a success and he topped it when he got the best results at the G.C.E.(O/ Level). Aravinda was rewarded with Ceylinco 'Pranama' scholarship award twice.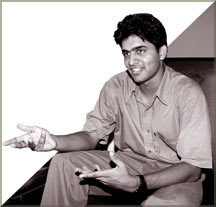 Firstly for the best O/L results in the Badulla district, and secondly for the best A/L results in the district rank - 2. He got through his A/Ls with three A s . He has been a loyal student, became house captain and then Head Prefect in 2003 - 2004.
The word 'Aravinda' means 'Lotus'. Aravinda began to bloom, only after he sat for the O/Ls. Although generally students tend to leave out extra activities, once they reach A/L's not Aravinda, he did just the opposite.
He took to extra curricular activities in a big way. He was involved in almost all the clubs in school and he presided in many of them. He became the Editor of the Magazine of the Buddhist Students' Association and did a good job of it.
The bond between him and his family is very strong and special. He has a sister who is 14 years younger to him.
"Her birth was a turning point in my life. I was 14 years then. Until then I wanted to be a doctor. But seeing my mother in pain made me dizzy and the idea of becoming a doctor went away ," he smiles. "It's not that I am bothered about seeing blood, but I can't bear to see anyone suffering," he says.
While excelling academically, Aravinda succeeded in Badminton, Javelin Throw, Discuss Throw and 4x100 metre relays at school and at district level. he even shone in the field of Elocution, speech and drama.
Aravinda, who was Head Prefect never lost his head "I like to believe in people. I hope I will never get deceived. Leading a correct path will show you the right thing at the right time," he says. He won the school gold medal for the Best All Rounder in 2003. He was the district award winner at the 'Sisu Udana Vishishtayo' Award Ceremony given for extra curricular activities.
He reached the all island level at the Inter Thomian Quiz Competitions organised for English Day from 1996 to 2004.
Aravinda loves music. He was the side drummer of the junior band, and played the Euphonium in the cadet band. He plays the violin and sings whenever he gets into the mood. While attending to any work, he loves to listen to any rhythm that goes with a fine tune.
"I have a large collection of songs stored in my computer," he says. . He blends his artistic talent and technological skills together in Graphic designing.
Aravinda is a star at the University of Moratuwa. He won the second runner-up award at the 'Speak Olympiad' speech contest at the Inter University Contest in 2005. He was one of the members that guided the team to win the championship at the inter-university quiz competition held at the Colombo campus.
The prospective engineer is a blend of sensitivity and sensibility who has the right plans for his future. He is a CIMA student as well. " I decided to do CIMA in order to get managerial exposure and qualification," he explains.
Aravinda is punctual and spick and span. He has inherited it from his father. His sweet heart won his heart during the A/Ls and is today in the media field waiting for university entrance.
Clear conscience, clever outlook and clean personality is the secret of his success.