Fusion of rhythmic motion

'Kanya', a fusion of rhythmic motion an evening to indulge in a blend of creative and modern dancing. Chandana Wickramasinghe among with is dance troupe will once again bring to stage the ever-green dance act 'Kanya'. It will go on the Boards on May 27, at the Lionel Wendt.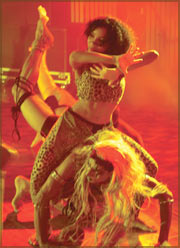 The novel and inspired dance act 'Cleopatra', the latest performance of Chandana and the Dancing Guild will no doubt steal the evening. 'God's In White', 'Aggressive Love' based on the legend of Kuveni and Wijeya, 'Mayura Sandeshaya' and 'Dance of Shiva' are also among the many other creative dance acts that will attract the evening.
The fusion style dancing coupled with elegant costumes and creative lighting effects will no doubt draw very dance lover. According to Chandana following the launch of his latest show on May 27, his troupe will leave the country for a number of foreign performances.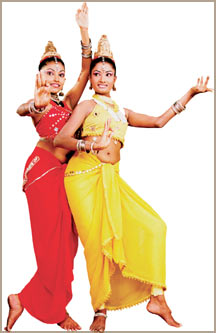 Having learnt his first steps in dancing, from Vajira and Chithrasena at the age of six, Chandana was further trained and awarded 'Vas' by veteran dance Kulasiri Budawatte.
A proud product of Mahanama College Colombo, Chandana later joined the 'Sama Ballet' troupe where he was further moulded by Ravi Bandu Vidyapathi, Mudiyanse Dissanayake, Piyarasa and Kanthi Shilpadhapathi. While hosts of performing in a number of dance festivals around the world as dancer and choreographer, Chandana has studied Kathakali and Manipuri dance at the prestigious Santiniketan in India.
Today, he is the proud master of over 600 students and 30 dancers - 'Chandana and the Dancers' Guild' which was founded in 1996.
"The unrivalled reputation for distinctive style of performance and committed ensemble playing was prised world over," says Chandana whose humble attempt and dream is to touch the hidden world of emotion and imagination.