Crafting their own future
It's a common conviction that the Universities in Sri Lanka do not interact sufficiently with the governing bodies to bring forth faster development avenues. It has also been criticized that there are some useless degrees that have no value to the country or to the undergraduates who follow it.
Whatever the case maybe regarding local Universities or degrees, a group of young students have taken up the challenge, to co-create their own destiny, in an unconventional way; rather than going in search of companies, they bring the companies to them.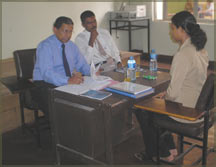 This is not the first time that the Rotaract Club of the University of Moratuwa (in collaboration with the Career Guidance Unit) is orchestrating a Careers Day. Nor is it the first time that they've asked a huge array of companies to showcase what they've got to offer. But as Thilina, the president of the Rotaract Club points out "This time we are going to do it grand-scale. Rather than the companies coming and recruiting the way they want, we've arranged company presentations so the students get to have their own option."
In fact, recruiting undergraduates at the mock interview sessions, which are only meant to show the students how to face an actual interview, has been a tradition at the "Are You Ready?" careers day.
Prestigious Companies like MIT, DIMO, and Orient Electricals have not only pledged that they would help the graduates but have also backed this years "Are you Ready" project financially.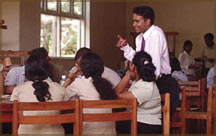 As Amila - the project coordinator for the Rotaract Cub - points out this will also solve another major issue with the technical graduates of the Country.
"Many graduates having a broad knowledge of the available options in the country think that there are no engineering opportunities in the country," says Amila. "This might even lead them to immigration. So by letting our friends see the available opportunities, they'll be able to see what's really out there and what can be achieved if pursued."
On the other hand many prospective employers still do not have sufficient and accurate information on the undergraduate profiles, and the spectrum of undergraduates of different specialisations produced by the University of Moratuwa. The lack of understanding about the specialized skills may lead to employing the wrong personnel.
Overcoming this is a national need as well as an immediate necessity for the students and the corporate sector. Quite an example set by the Rotaract Club, Univerisity of Moratuwa.