Fame has come his way

Anyone who's even slightly into Sinhala cinema knows who Roshan Ranawana is: the oh so... good looking guy who plays Pradeep, the rich kid and Anarkali's love interest in Hiripoda Wessa. As for those of you who don't and are either poring over the picture (females) or going 'sheesh' (males), Roshan is 25, played the part of Amal on television's Wasuda and has made many a television appearance in commercials before all the fuss began.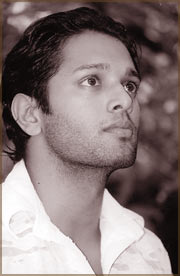 What not all of might know however is that even before Roshan's sudden burst of popularity, he was making waves with the help of his 'physique'. "I always wanted to be a model, ever since I was a small kid. I never really thought it would happen though."
As a child Roshan would watch beauty pageants,fascinated and always dressed up. "According to my mom, even in kindergarten I wanted my clothes to match. For my socks to go with my outfit and so on. I don't really remember though," he laughs. As a teenager he always kept up with the trends, mixing, matching and "just looking good."
Even now he makes sure that he dressed for the occasion. "I spend a lot of money on clothes. I love denims, body-fit t-shirts, sleeveless skinnies."
His first foray into the modelling world began when he saw an advertisement in the newspaper. Though hesitant at first, with the help of his mother's push and unwavering belief in him, he applied and was chosen to appear in a bridal fashion show by Ramani Fernando. Soon after plenty of offers from various quarters began to pour in.
"I love ramp walking. You're the man at the time and adds a little to your ego. It's about being good enough to display both the clothes and yourself."
Does he have a beauty regimen? "I use sun screen when I go out and I had to use certain masks to remove all the make up after shooting. So, no I don't really have a beauty regimen as such," he says.
With confidence in his abilities he moved on to higher goals and in 2002 was crowned. He also participated in the Manhunt International pageant the very same year where he was placed the seventh in the world.
The next year brought him even more glory where he participated in the Mr. World pageant in London, the Indian Grassime International and the Model of the World competition. Not only did he win the mini-title of Best National Costume, but was adjudged the third Best Model of the World.
Roshan returned to Sri Lanka and life returned back to normal until his eye fell upon yet another advertisement in the paper. It was an advertisement calling for suitable candidates to join the cast of a Udayakantha Warnakulasuriya production.
"My mom told me to apply (again!), besides I liked the director." Having already landed a good-guy role in the teledrama, Wasuda, he agreed. "I had never acted in a movie before, but it all came to me naturally. The director helped me a lot, the dancing was choreographed by Indians and my co-star Anarkali was supportive. It was pretty good."
Roshan remarks that he "doesn't mind acting as long as it is a good role." He is currently shooting in Panadura for a teledrama, Sonduru Sith Aththiyo, directed by Eranga Senanayake. Ranawana plays the main role of a doctor who secretly marries a poor A/L student due to his family's dislike of the relationship. "It's a bit about politics as well." While Roshan's making his mark and working on being a better actor in the local scene, he says he would love to "do contacts abroad," as well.
How is he coping with his new found fame I ask. "I get a lot of letters with my picture on it and stuff. I also get a lot of calls throughout the day." He is also constantly hounded for autographs wherever he goes, but he tells me that he does not mind it.
As for his love life he declares that he is "just not into serious relationships." Fame has already taken its toll on him and "it his difficult to distinguish between someone who like you for yourself and someone who likes you just because you're famous right now."
He might be making his premiere appearances all by himself, a different beauty on his arm each time or with his mother, but what is for sure is that Roshan Ranawana is bound to make many an appearance on your television and in your theatre nearby.