Cooray ready despite obstacles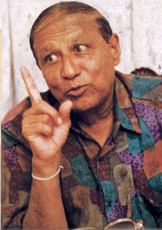 Former Mayor and UNP heavyweight Sirisena Cooray who was in political wilderness for 12 years returned from Australia to battle the major UNP bastion, Colombo Municipal Council with leftist firebrand Vasudeva Nanayakkara. Cooray with a severe setback to his campaign after the rejection of his nomination papers is now trying his luck as an `independent' candidate, 100 percent confident of victory. In an interview with Sunday Observer staffer Jayantha Sri Nissanka, Cooray claimed that many obstacles placed in his path will not stop his victory.
Q: How confident are you of your victory in the attempt to contest on an independent list?
A: We are 100 percent confident of the victory. We have no doubt about it. You have to analyse the voting pattern of Colombo and see how we can win. Of course there are drawbacks with all unexpected problems but nevertheless I feel I will get more votes than what we have got in the past.
Q: Would you not think that UNPers who are acquainted with the symbol 'elephant' may get confused with new symbol- 'spectacle'?
A: I am not contesting from the 'spectacle', but I am supporting the candidates who are contesting that symbol. If you are a SLFPer, you identify the party symbol 'Hand' but subsequently they changed it. It was an all island exercise. My change is only to Colombo. However, Colombo voters are more advanced than rural voters. They are very keen at this election. UNPers feel they are deprived of their right to vote due to various reasons.
Q: But I saw an advertisement of you on TV with your photograph requesting the people to vote for number one of the independent group contesting under the symbol 'spectacle'?
A: We are supporting them. It has happened so many times if you study the past history of the SLFP. They initially contested under the party symbol of Hand. Later changed to Chair and now another symbol. This advertisement is purely to educate supporters.
Q: But the SLFP Secretary Maithripala Sirisena plans to take legal action against you, for using the independent list numbers?
A: Did I request people to vote for me in that advertisement? Even if I requested to vote for me, it is not illegal. Because my name is not in the ballot paper. Mr.Sirisena at the same conference claimed that we were wrong, but he admitted that they are contesting from a symbol 'Book' that belongs to an independent group in Gampaha. There can't be two laws in this country for the SLFP and UNP. They are desperate and try everything possible to defeat me.
Q: Will it lead to an election petition?
A: They can go to courts, but nothing will happen. How many times we went but what happened finally.
Q: UNP governed the CMC for many years but still the UNP has failed to address major issues in Colombo?
A: It was the UNP which did major work in Colombo. That is why the people always elected UNP to govern the CMC. UNP has done a lot to improve the city infrastructure. Earlier, there were narrow roads, no drainage facilities, bucket lavatories; half of Colombo had no water supply, electricity. It was we who gave all these basic facilities to the poor in Colombo.
Q: Do you feel that the rejection of the nomination list is a severe set- back?
A: It is a drawback. But you must always try to build a position when you are at a disadvantage. How far you can take a challenge is the important thing. As far as I am concerned, I have faced lots of challenges worse than this in my life time. So this is not a big issue to me. Someone can say that it is a very short period and how could I prepare for an election. But we have to plan and prepare to face it.
Q: What is the party's action for those who were responsible for the initial setback?
A: That is a matter for argument to find out who was responsible, whether it was a mistake. But there was no mistake.
This is an interpretation. I am asking you who are the youth? A person after 18 years is eligible to vote. But what has happened is that they have included a 19 year old boy according to the 2006 voting register in the nomination list. He is entitled to vote. His name is appearing in 2005 register too. Others argued that he should have been 18 by the 2004 electoral register. Remember, at the same time law says you need not be a registered voter to contest. Look at the irony of the argument.
Q: But your argument was totally rejected by courts not once but twice. Your comment?
A: I wish to refrain from commenting on it. But I still maintain my stand.
Q: Your main opponent Vasudeva Nanayakkara is vigorously campaigning with an action plan. Unfortunately you were deprived of a good campaign because of the initial set back. Do you think that you are a good competitor to Vasu?
A: I can't blame him for his vigorous campaign. I must tell you that I don't like to boast about my self. However, responding to your question, remember, I have done many elections for me as well as for others. I don't have to talk about my organisation capacity here.
Organising an electorate does not mean shouting at election meetings. We have a block vote in the city. It is very strong. What we have to do is to create awareness among our supporters about the change of the symbol and why it happened.
Q: In the event your independent list wins, how confident are you that those in the list who benefited by the UNP votes would resign to make way for you?
A: In every game certain amount of risk is involved. Legally I know what to do. There is a legal procedure for it. We have prepared for a safe victory.
Q: You were earlier known as a good organiser and a seasoned campaigner. But you have been so only when in power. Now you are trying your luck as a man completely out of power. Can you prove yourself as a winner this time?
A: That is a wrong impression. I have organised many elections when not in power. In fact, I am the first one to win the first and the last by elections after the UNP got defeated in 1970. That was the time the JVP insurrection was in full swing. So I don't have to talk about my organisational capabilities.
Q: UPFA candidate Vasudeva Nanayakkara has come with a plan for Colombo. Where is your plan?
A: You must measure the capabilities on the performance of candidates. CMC is a huge institution with over 15, 000 people working. It needs a person with administrative and political background to operate the CMC. Then only you can succeed. It is very important. I don't like to talk about others.
I would say that I am the most suitable Mayor because of the background and the knowledge I have about Colombo. I was born and bred in Colombo. I know where the problems are. I was the Mayor for 10 years from 1979-89. I first got selected to the CMC in 1971.
Q: Do you have a plan for Colombo city?
A: People know that I will perform. I did a lot of planning when I was there. We should plan not for tomorrow but for the next 10 years. At that time I faced lots of problem. We prepared plans for the next ten years. If those plans were implemented things would have been different. My plan for Colombo city cannot be explained in a few words.
Importantly, you must know what are the problems. These are not knew things for me. Nevertheless, I know all the problems. There is nothing you can't do. If there is a will there is a way. Garbage problem was not there when I was the Mayor. I handled it well. At that time I collected 450 tons a day. It has increased to 650 a day now.
When I took over there was no garbage vehicles at that time. I did lots of work without much publicity. Officials of the CMC printed a book when I was leaving titled "Decade of Excellence". It itemised all what I did.
There area various ways of disposing garbage like producing electricity, bricks, compost, gas, etc. Now we are using garbage to fill lands. Land filling can't go on because there is a limit to it. So we have to come out with some other programme. Compost is also not rich enough as our garbage is 80% organic since it has more food stuffs. That is why it is very costly to generate electricity. Other countries do otherwise. At that time I was planning to introduce a Bailing Plant to compress garbage.
Q: More than 50% people in the Colombo City are poor and live in shanties. What are your plans to uplift their living?
A: It was we who provided them electricity, land, jobs, water, sanitary facilities to improve quality of their lives. I am asking others what they have done for these people. They only talk of poverty eradication.
For example, take Colombo Central. It was the late Peter Keuneman who got the highest number of votes at that time. A.E.Gunasinghe of the Kamkaru Party was the second and a Muslim member was third. Majority of people living in Colombo Central belonged to the working class. But over the years, we kept changing their lives and gave them opportunities.
Then what happened? Mr.R.Premadasa got the highest number of votes and Peter Keuneman second. Why, because Premadasa built houses and improved the quality of lives. We gave two perches land ownership for over 25,000 families who were in fear of being chased out.
According to Municipal Ordinance unauthorised people can not obtain any service from the CMC. But we wanted to change it. Therefor we give them lands. That is how these families still obtain services from the CMC. Therefore, how do you say that we have not done anything? Actually now the question is to move from this position. We will do our best. It was I who implemented all the projects of late President R. Premadasa except Janasaviya. I had differences over the Janasaviya programme.
Q: Finally, do you think that you face competition from Vasu. The general opinion is that your fate as the next Mayor hangs in the balance due to these uncertainties. How do you feel?.
A: I feel perfectly all right. Competition is there, but I know I can win.