Married to the mobile
Hooked
A long weekend brings joy to anyone with a busy lifestyle. Last month, April, a holiday I always look forward to, a number of outings were on the cards. A three-day outing with the family and another excursion with my dear office colleagues.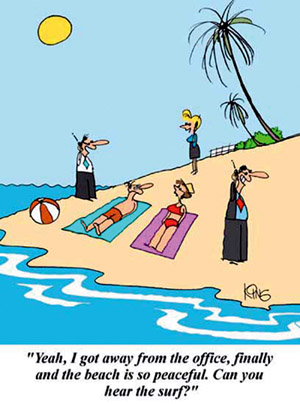 Both trips were well planned in advance so that nothing would 'go wrong'. Transportation, accommodation, food and entertainment.. everything was very well taken care of.
First came the office trip. One after the other, we slowly gathered in the office, early morning on the much awaited day. Men looked relaxed in their boxer shorts (ouch) and caps (borrowed from their teenage sons), while the women wore more make-up but somehow looked good in their safari-like outfits (ouch again). As I glanced at the backpacks resting in a corner in my office, I felt glad that finally, the much awaited outing was going to be a reality.
"I am so glad that we are going on this trip," I told a colleague who looked busy trying to make a phone call. "I forgot my mobile phone charger, what trip without the phone,".
Although the issue never struck me, I was relieved that my phone charger was secure inside my hand bag thanks to my dear husband. He never questioned anything about the trip, where we were going, how we were going and when we will return, but popped up one single question "Do you have reception there?" and made sure that I take my mobile phone and the charger without fail.
As we waited for the bus one common query kept circulating among the crowd. "Signal thiyanawada danne naha (Will there be reception?)". They all tried to convince each other that they had the best phone connection which later turned out to be an intolerable argument. The two hour journey ended up without a single song or a prank. "What a way to start," we all thought.
After reaching the hotel, we checked in and went in search of our rooms. As I relaxed in the cosy bed my roommate was desperately struggling with the switch board. "Looks like I need a multi plug, I can't plug my phone charger," she started to whine. The phone kept ringing for the next fifteen minutes and they all wanted to know one thing, whether any of us had got a multi-plug.
We gathered for lunch two hours later, because many of my colleagues had gone in search of multi plugs. As we sat down for lunch, angry over all the commotion that had taken place earlier, I tried to get into some small talk with my colleagues. They were already busy talking. Busy talking on their mobile phones, instructing husbands what to wear, demanding wives not to leave home until they are back at home, telling their children to warm the food.
The lunch was ruined. So did the much awaited beach volleyball tournament, the karaoke session, dinner and even dancing at the discotheque. Cursing myself for organising the trip I sat angrily in a corner of the bus trying to ignore the phone conversations "Tell baby that I am on my way," "I will be home to take the children for the tuition class," "We will be in Colombo in another one hours time,"
Angry and disappointed I promised my self that I will never take part in office trips. But, I still had hopes, to indulge my self in another journey. And this time it will definitely be better. It was a four day trip with the people I love, my family.
It took me hours to pack our stuff. Little help I received from my husband who was endlessly complaining about the two days leave he had to take. Before we got into the vehicle he shot back, " Did you take the charger and a multi plug," thanks to my previous trip I was well equipped this time.
The minute he sat on the drivers seat, he kept making phone calls. "Machang, I will be out of Colombo for couple of days, tell me what's happening there ok,"..."Don't forget to call me if something goes wrong ok,"..."Tell me if you need me in Colombo, I can cut short the holiday,"...
We checked into the hotel. My father started complaining that there was 'no signal' available and that he was unable to make some important phone calls. My dear husband kept instructing and inquiring from his office colleagues while my mother made sure everything at home in Colombo was functioning smoothly (lights were switched on time, the dogs were fed and that my aunt would water the plants on time).
My brother refused to take a sea bath because he didn't want to leave his phones unattended. My intended sister-in-law was stuck in a corner of the swimming pool where she hung to her phone listening to her mother at the other end.
The dinner was ruined, so was the dancing, the sea bath and the couple of sight seeing tours too and the much awaited four day outing.. all ended up in turmoil.. thanks to mobile phones, the so-called hi tech gadgematic that is supposed to make life more comfortable.