President Rajapakse- Architect of new visionary ideas
"We have excellent cordial relationship with the United Kingdom and the United States of America and have no qualms about anything. In fact we are about to contact Gordon Brown", President Rajapaksa further went on to say that it is quite conspicuous from the announcement of President Barak Obama and Prime Minister Gordon Brown both did not mention any problems even though some newspaper trying to mislead the events, whereas the government of Sri Lanka adhered to international rules and social conventions after the war concluded in conclusive fashion.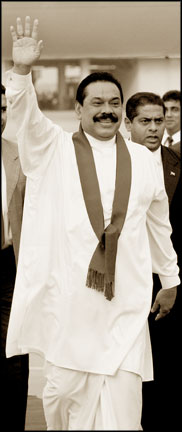 There had been several cordial and friendly telephone conversations lately between London and Colombo, and this was the response received from the government when queried as to how things are shaping, this was in the morning of the day when Sri Lanka was liberated from the haunting fear of terrorism that ravaged the country for decades.
However some newspapers omitted certain facts from the readers disturbing the distribution of this weight; that is the difference between credits and debits of this game, keeping in a state of imbalance and make improper predictions; claims to foretell future events in people's lives.
Tribute
Sri Lankan President Mahinda Rajapaksa is the architect who had new visionary ideas for Sri Lanka's future. Dogged by the spectre of terrorism he saw previous Prime Ministers and Presidents bogged down and went through a good measure of tragedies in the past, he was a waiting President to take over to govern. He was destined to arrive to take over the reins at the right time. He was not a pretender nor was he a recalcitrant who gave broken promises and hopes to solve the burning question - the National Question .
He who provides the people of this country, general truth about morals and of human understanding, is a winner all the way. His principles of life, who applies his theories through Mahinda Chinthanaya which provides basic truth and principles of our lives.
He does everything rigidly on the basis of reasoning and practices of a very conscientious leader who shows careful attention, who displays ability to think and draw conclusions at an hour of need and lack of hope for Sri Lanka.
Mother Lanka
He was always displaying, what was likely to turn out well to produce good results.
Every leader came forward to help Mother Lanka assuming the war would be won, but they all went losing one by one. All expectations were dashed.
The grieving, sorrowful Mother Lanka was desperately going through devastation after devastation. She felt her own safety and security had been threatened like no other time. She mumbled with tears pouring down her cheeks " could there be someone to save me from further devastation ?"
Amongst the crowd came a man with a deep voice. A face full of determination, a process of purpose and process of deciding what to do.
He looked at Mother Lanka's eyes, held her hands in deep veneration "I will provide the past glory, comfort and support in time of sorrow" then Mother Lanka in return held both his hands' embraced and said; "Son, you are a true son of my soil, I am proud of you, I already feel positive within me, Good luck my son, Good luck with your future endeavours!
Freedom
It seems from the first light of the day feelings of these expectations and desires of every man, woman and their children had changed, this is what every previous Prime Minister or President whether he or she had hoped for, yearned to achieve, but none could do it. Do it quickly with expediency, without violating minority rights and civilian casualties, the world is watching and the nation's feelings of expectations ; what one hopes for the future were placed on his shoulders.
As we start life in the morning, take our newspapers and listen to TV no more do we hear of a human slaughter in large scale, we feel free and deep inside, oh, no, you don't feel the way you did, before, it's different, different kind of feelings, different kind of freedom, every one is feeling to go to school, office, every one is allowed to range feelings in search of things, things that we could not complete, go in search or visit our loved ones, without fear or ride a bicycle without paddling!
Presidency
Right from the start of his Presidency, the President probably wanted everything to start with a new beginning, practices or systems that prevailed before he took over as the President of Democratic Socialist Republic of Sri Lanka to be replaced by basic truth and principles of life, principles of conduct and courage to carry responsibility.
This is the foundation which he made to have laid in confidence, on one hand, he knew he could tackle the national question and restore confidence to remove fears or doubts of the majority Sinhalese, minority ethnic groups and religious leaders, thereafter he may have thought of his own ability to gauge what is right or practically possible it is obvious he is not a President who deprives minority rights but he was equally determined not to cow down to terrorists who ate most of our resources, development, our safety and security. Yet he was prepared for anything possible, to listen, being a logical, moderate reasonable person, and now he brought much of the transformation we expected in the life of our nation, and peace that escaped skilfully almost over two decades, his vision not only brought hopes of a nation, but also brought emancipation that we desperately needed at this historic hour. one has to give credit to the visionary ideas of " Mahinda Chinthanaya". When you go back in memory lane only a few leaders in the past like in China, India and Cuba had such magnanimous visionaries yet they were mostly not moderate.
From a colleague
It must be remembered that my country's (Australia) former Prime Minister John Howard once publicly declared that he had read "Mahinda Chinthanaya" of the Sri Lankan President and he deeply admired the contents written by the President and he (Howard) upheld and endorsed what he read.
The cricket crazy John Howard a diehard conservative normally does not make such comments about overseas leaders but "fair dinkum" he did so, and I admire him for doing so. He is bound to read what I pen today and no doubt he would vouch these comments.
However there is also positive obligation by the present government not only to wipe out terrorism and there was never any doubt that people of this country had given a mandate, an authority to perform certain tasks to maintain law and order and make Sri Lanka a safer place to live and above all protect everything what we fought for.
Prabhakaran
Prabhakaran felt that not only he knew everything in advance and did not listen to others for their counsel or advice thereby had arrived at a precarious situation. As we all know before his demise he was holed up in the narrow strip, shipwrecked, marooned, sunken in no man's land somewhere like in the ocean regions near the equator with little or no wind .......
until the end came.
We paid a higher cost of living because of terrorism. Whilst the terrorism's head was held high no progress and developments could be done properly. So how do you react or respond during important decision making times? Remember that is the most important decision you are going to make. Don't let the politicians make your mind up. It's upto each and every one to use it correctly.
Victories
Whilst we enjoy our new found freedom to move freely and get on with life independently not controlled by another person or thing, we should not outshine other people, a modest estimate of our own importance, although we could hear every one say "we are victorious" but then our thoughts should also go back to those who suffered and sacrificed their lives in the name of our motherland.
Those lives were not sacrificed as a gift to win God's favour but a valued thing for the sake of giving one's life for others safety and security, their memories and contributions not to be harmed but respect with gratitude.
Sri Lanka was engulfed in a treacherously ruthless war that could not have been won easily, and there are in our own society people who are not complacent with the outcome of our victory and unfortunately these people down play the result using it to their own political advantage. Wonder how you can describe them, Unpatriotic..?
Gratitude
When you look beyond another 200 years our future generations would argue that it is the most remembered landmark spearheaded by a conscientious leader who had visionary ideas for Sri Lanka's future and remember him with gratitude and respect. His remarkable character is not made glossy here, by any means but he has earned it by sheer hard work and dedication to work ethics, there is no harm in praising someone who deserved to be praised besides is there any other time the praising is fitting and timely than right now?
Deserving praise and honour are special words themselves, therefore if we need the best out of the best we need to praise. Is it fair and proper to say in simple words that among the famed and honoured politicians, academics, scientists, poets and writers in the past and present who have done great deeds to our country whom we adore deeply, President Mahinda Percy Rajapaksa's approval expressed here in words are fitting and proper and stands as equal as the greats mentioned here.
As mentioned before we as all Sri Lankans should be grateful and lucky that we have someone in our midst who is virtuous and concerned with the conduct of understanding the war situation right from wrong who could provide moral lessons or Principles, virtue and certainty with correct political leadership that led us to safety and in the end we triumphed without getting marooned in a no man's land.