Trinitian Heshan Unamboowe - two records at Pentathlon Swimming C'ships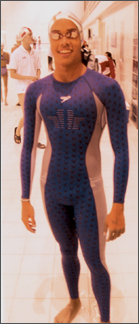 Relaxing after two records... Heshan Unamboowe of Trinity who established records in 100 metres Back Stroke and 200 metres Individual Medley at the Pentathlon Swimming Championships held at the Sugathadasa Stadium Pool. Picture by Upananda Jayasundera - Kandy Sports Special Corr.
SWIMMING: Heshan Unamboowe - the youngest Trinitian to receive the prestigious `LION' for sports in 2006, established two meet records at the Pentathlon Swimming Championships conducted by the Interim Committee of Sri Lanka Aquatic Sports Union held at the Sugathadasa Stadium pool last week.He won the 100 metres Back Stroke for boys under 19 in 1 minute 01.18 seconds and also the 200 metres Individual Medley in 2 minutes 17.71 seconds.Unamboowe's victories seemed to be some sort of birthday present as he celebrated his 17th birthday on May 19.
There were two other records - K. Imesh Chathuraya of D. S. Senanayake College got a new timing of 36.19 seconds in 50 metres Back Stroke for boys under 12 and then Machika Raheem of Otter Aquatic Club `clocked' 1 minute 04.82 seconds for a new record in the 100 metres Freestyle for girls under 14.
In the Boys Championships, Trinity College with 33 points came on top while St. Joseph's were second with 28 points and Ananda third with 26 points.Among the girls, Mahamaya College with 40 points came first with Hillwood College, Kandy second with 28 points while Musaeus College and Visakha Vidyalaya with 19 points each, came third.