Who will be adjudged the fastest man on earth? The world men's 100m record could well be erased at the IAAF World Championship now in progress in the Garman capital of Berlin.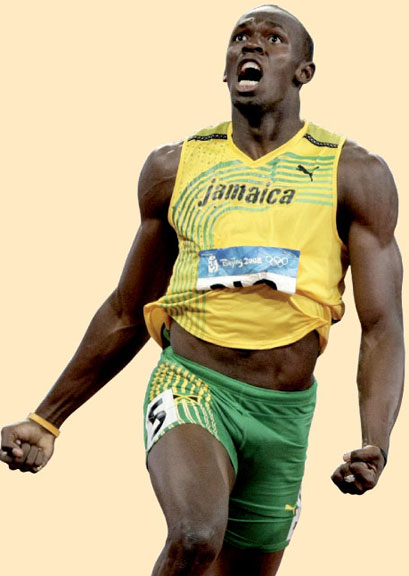 Over the past 12 months, has there been a more eagerly anticipated duel than the expected 100m showdown between Usain Bolt, the Olympic champion and World record holder, and Tyson Gay, the reigning World champion? Gauged by international media interest and fan anticipation, the answer is clearly, no.
Since storming to the forefront of the entire sporting world with his triple Olympic gold medal performance and three World records in Beijing last summer, the young Jamaican has become the sport's most exciting and visible athlete.
Even after missing crucial early season training following an automobile accident and subsequent minor surgery in April, Bolt has run consistently well and consistently fast. His only rival this season has been the uncooperative weather. After a wind-aided 9.93 in his 2009 debut in March, he beat the rain in Toronto (10.00), was pushed by a +2.1 m/s wind in Ostrava (9.77), battled the rain and chill in Paris (9.79), and fought a -1.7m/s win in London (9.91). Only his 9.86 victory at the Jamaican championships in late June was run in cooperative conditions.
Throughout the summer, Bolt has insisted that he'll be able to make up for those lost late spring training hours, and that he'll focus particular attention on his start, his only clearly visible weakness. He'll need to if he's targeting his own 9.69 World record, and to beat a fully fit Tyson Gay.
After recovering from the injury that kept him out of the Olympic final a year ago, Gay, who is also the defending 200m champion, has returned stronger than ever. He opened his season with a sizzling 19.58 career best over the half lap in New York, and followed up with a strongly wind-aided (+3.4) 9.75 in the opening round of the US trials. Next up with a solid display in Rome where he equalled his own national record of 9.77, the year's fastest performance, and decisively beating back a strong field. In his last outing, he clocked a windy (+2.6) 9.79 in Stockholm.
But there is a question mark about Gay's fitness.Former World record holder Asafa Powell, who took bronze in Osaka, has also been struggling with lingering injuries. The Jamaican's season's best came in Rome where he clocked 9.88. Churandy Martina of the Dutch Antilles, fourth in Beijing, has a season's best of 9.97 from his victory in Hengelo
(Courtesy: IAAF)