On March 1, 1998 Duncan White, accompanied by his wife Ansela made a special trip from his home in England to present the Duncan White Sports Foundation Award to Susanthika Jayasinghe. As events proved later, it was a moment that foreshadowed the future. It was a moment when a past olympic winner unknowingly was awarding a future olympic winner. It was a moment when the Olympic baton was passed on to another generation of athletes. There wasn't a better person to pass on that glorious tradition than Duncan White.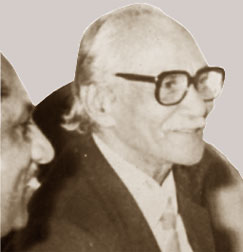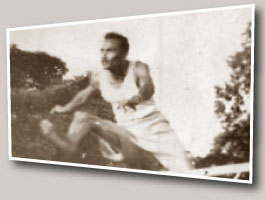 Duncan White, MBE, ED, DLC.M.INST. AM. was the first Sri Lankan to win an Olympic medal. His road to Olympics too was not paved with gold. Though he was born into a middle-class family it was a hard battle for his father, an apothecary at Matugama to pay the school fees of his son at Trinity College, one of the leading educational institutions of Sri Lanka.
In fact Duncan White found it difficult to even buy a pair of running shoes. In those days there were no sports foundations to pick up the bills of promising sportsmen. But in the fiery spirit of winners he was not put off by such shortcomings. His hour of glory came in 1948 when he sailed across 400 metres of hurdles with a timing of 51.8 secs in the XIVth olympiad held in London.
The report of the 1948 London Olympic Games records Whites' 400 metres Mens Hurdles Events as follows: "In the final Cochran was in the third lane, White of Ceylon (as Sri Lanka was known then) in the fifth and Larsson of Sweden on the outside.
White went off at a terrific pace but by walf distance Cochran, hurdling in superb form was ahead. He won by a huge margin in 51.1 seconds, a magnificent victory. White of Ceylon, who was second, had very little competition before the games and his achievement of 51.8 seconds deserves the highest praise."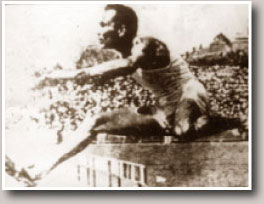 Coincidentally it also happened to be the year in which Sri Lanka was born a new nation after 443 years of colonial domination. The happy coincidence infused the nation with new hope. It gave them some pride.
Two years later in record breaking time, Duncan won a gold medal in the 400 metres hurdles event at the British Empire Games, Auckland 1950 - he beat the "hot" favourite Dutch Holland of New Zealand into 2nd place and broke the existing Empire Games record.
Duncan retired from competition in 1950 and after a brief stay in Ceylon left the country and was domiciled in England.Duncan White has never forgotten his roots. He used to visit his mother country as often as he could. He and his wife would always give a helping hand to anyone that needed their help. With his service to his fellow men he won the Gold medal minted in the memory of all those who knew Duncan White.
He passed away in July 1998, but his memory, his Olympic silver medal, his gold medal at the British Empire Games in 1950 and his services will outlast him in the annals of Sri Lankan History.