Chilling out and listening to the soulful sounds of 'Souled Out' at the R&B is a stress reliever after a hectic Friday. We caught up with Chris Dhason and Shafi (both formerly of Wildfire fame) before they rocked it on stage to talk about what 'Souled Out' was all about.
"We wanted to start an R&B band but it never kicked off until finally we got the right members" said Chris who is the leader of the band. The hot members dishing up the melody action consist of Suneth (formerly of Boomerang), Dulip, Shean (formerly of Revelations) and pretty newcomer Sam.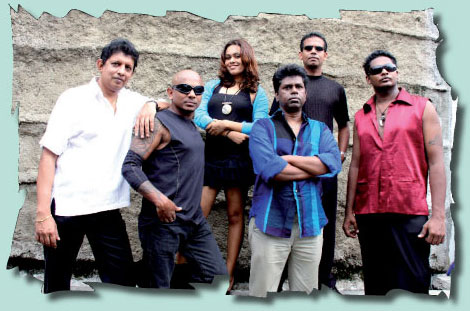 They derive their influences from a repertoire of varied music encompassing jazz, soul, pop, rock and R&B. "We try our best to stick to music that revolves around an original concept but it can have shortcomings," said Chris, who has written and has been writing some popular songs like 'Rainbow Out of Sight'.
Further he added, "However, party folk want to listen to the same old songs and we have no choice but to play it for them. The moment we play a new song that we composed, they would just leave the place without thinking that originality is important to show that we're not copy-cats and that we have talent too."
Playing the dynamic drums is Chris, Shafi strums the guitar, Dulip handles the bass, Suneth tackles the keyboards, Shean helps as a male vocalist and official photographer of the band while Sam sings her heart out as the lead.
The members of today have been part of major bands and even went to found the 80s band Upeka which have taken Sri Lanka's music industry by storm. "What we wanted to do with 'Souled Out' was add a bit of flavour with rifts of R&B that will blend with the audience and we also do crowd pleasers to make toes tap till the break of dawn," said Chris. Like so, R&B is definitely "Sold Out" once 'Souled Out' plays with many party ravers loading up on the action.
Says Shean who has been in music for years now, "We don't have a strong enough music label to bring out the best talent in Sri Lanka especially in the English music scene. The unfortunate thing is that many musicians who can't sing, synthesize their voices by adding Hip Hop and Pop and the talented musicians who can play proper instruments are left in the dark."
Speaking about their newbie, Sam Frances (Fonseka), Chris said ever since they heard her sing Aretha Franklin's R.E.S.P.E.C.T, they were swept away by her beautiful voice. "Sam comes from a musical background and that's why we wanted to her join. This is her first band and she has a brilliant future" said Chris. Sam is currently studying but finding time to rock with her band to give the crowd a good variety of music which is the spice of life.
Advising the younger generation, 'Souled Out' said, "Stand out from the crowd with originality. You need a good foundation to know your music which is more than just picking up an instrument and playing but learning music notes". 'Souled Out' practice three times a week proving how committed they are to their music which is important to make their mark in the music industry."
Check out 'Souled Out' at R&B, a place that really gets sold out soon!
---

The Cocoon came alive with the captivating sounds of the popular group Legacy who launched themselves off with a new male vocalist to continue their success with the groovers who haunt the night club scenes. It all happened last week.
The Cocoon was swelling over with music fans which endorsed in more ways than one that they missed evening entertainment in their lives and now that "things are smoothing out" Legacy continues their top rung popularity with them. By now you must be questioning yourself 'Who in Heaven's name is the vocalist?"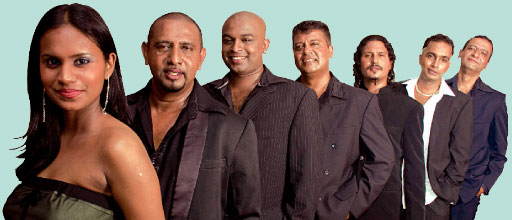 Without keeping you in suspense any further let me rush you into recognising the 'new being'. He is none other than Shane Berenger a fascinating vocalist and guitarist. His rich, deep baritone voice (girl's swoon over) is predominantly rock oriented but his skilful performance of retro, pop, reggae and oldies have kept his fans rooted to the spot, in amazement.
Legacy is now fully geared to lift the spirit and the standard of your celebrations to dizzy heights. A band of distinction for dances, weddings, social and corporate events. Legacy as you know comprises versatile musicians who have created an overall sound for the band which places them on a level apart from the others.
Ozzie Nugara the keyboardist, dabbles with the synthesizers, samplers and sings too. He has been playing a good number of years abroad with - Arabesque, Apple Green, Badge, Aquarius and Section 8. When he is not playing with the band, he's always busy at the mixer in his own recording Studio Q Audio.
The bass guitarist/vocalist Nilantha Ariyaratne enjoyed a colourful career when he started off with Pink and Purple, later with Jade before he became a member of the Peter Prins Combo specialising in dance music and travelled with the band to perform at many foreign capitals. Soon his next stop was with Wild Fire and his repertoire extended with his expertise.
Diren Sabaratnam the drummer/vocalist gives that thrust to the band to keep it sizzling for the groovers. A child prodigy who sat at the drum stool from the age of 4, Diren was a regular with Revelation played in Dubai and when he returned was a familiar figure at Clancy's R&B. The Hut, joined Geoff Fernando's Boomerang and later Section 8.
Pianist/vocalist Dilip Seneviratne's repertoire covers semi-classical, Jazz, Blues, Latin and contemporary pop. A founder member of Cardinals Outburst a successful dance band, he later joined Average Stealers. He played with Manilal & Upekha, Take 5, Rattlesnake, Latin Jazz and Cross Section. He toured Hong Kong twice with Cross Section.
Revel Crake guitarist / vocalist is a highly acknowledged musician who hails from an illustrious musical family in Sri Lanka. There are no limitations to Revel's expertise. He's at home in a pop scene, even a hip hop one, rock, funk, reggae, soul, jazz, blues and folk.
And that's saying a lot.
Finally there's Anne Jayamanne - vocalist a popular presenter of a leading FM Radio Station who started her career with Dream Team then moved over to Section 8, the Southern Jazz Project and Contraband. And now with Legacy she spreads the youth vibes, which drew the young groovers towards her at the Cocoon at Holiday Inn, the other night.