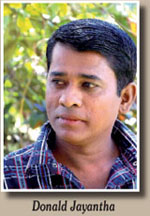 With over 25 years of experience as an assistant director and nearly 40 movies to his credit, Donald Jayantha has made a mark in the industry that many will find hard to overtake. The 'man-behind-the-scene' entered the scene as an actor before turning AD. He is, without doubt, one of the most renowned faces behind the reel today. Not only has he worked with popular directors in the scene but he also has the knack of spotting fresh talent.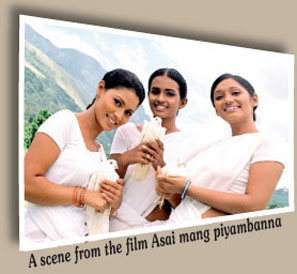 The old boy of Deniyaya Kotapola Maha Vidyalaya possessed a passion for the arts scene from his childhood. After completing his studies, Donald joined a couple of stage productions and teledramas as an actor while working as a journalist. However he soon realized that his true talent lies behind the scenes when seasoned filmmaker Dharmasiri Gamage requested his assistance in 'Yasa Isuru'.
"I was inspired by acting duo Gamini Fonseka and Malani Fonseka. They made some exceptional films together. However my destiny was pre-planned. Working on the sets of 'Yasa Isuru' decided my course life and Gamage employed me in 'Pooja'. I have worked with Udayakantha Warnasuirya in most of his projects and some of the other directors in the scene," Donald explained.
He says that there are only a handful of ADs in local cinema today.
Therefore there is a need for them to uphold their position in the field.
He adds, "The fact that I. N. Hewawasam had instilled a sense of professionalism into the sector Ads which is pleasing. An AD is not the director's assistant. He plays a vital role in coordinating the whole project while the director concentrates on matters like the creative aspects of the movie. Some mammoth movie creations in the global scene employ more than one AD to look over matters. It is their duty to see that the project runs smoothly."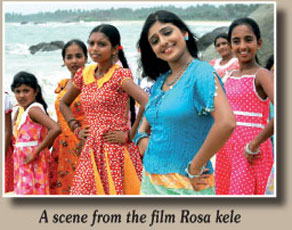 He has worked as an AD in some popular projects like 'Dehena', 'One Shot', 'Parliament Jokes', 'Vimukthi', 'Hiripoda Vessa', 'Anjalika', 'Asai Mang Piyambanna', 'Rosa Kele', 'Prabhakaran', 'Paya Enna Hiruse' and more. Some of the creations he had assistant directed are also in the pipe line to be released. 'Mago Digo Dai' which will make its entrance to theatres soon is also one of the movies he had worked on. 'Ran Kevita II' and 'Suwanda Danuna Jeevithe' are other productions to watch out for.
"I have worked with some of the best people in the scene and am now looking forward to directing my own film. I plan to do that once I have passed the 50 milestone as AD. The 51st creation will be my own direction," he smiled adding that he wishes to express his gratitude to Dharmasiri Gamage, his wife Mangalika Nagodawithana, Udayakantha Warnasuriya, Priyantha Colombage, Dhammika Siriwardana, Ashoka Serasinghe, Ranjan Ramanayake and all those who had invited him to work on their sets.