Grilled stoat cheats death for 30 miles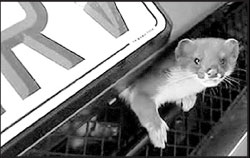 A stoat miraculously cheated a certain roadkill death after becoming trapped in the grille of a sports car for over 30 miles. Motorist Merv Draper was heading home on Tuesday night when he spotted the tiny animal in his headlights. Travelling at speed, he assumed he must have run over the poor thing.
But the fearsome creature had flung itself into the metal grille of the BMW Z4 and become a stoat stowaway. Mr Draper completed the 32-mile journey from Colsterworth to his home in Ewerby, Lincolnshire, and only discovered his passenger cargo the following morning.
The stoat was peeping out of the car below the number plate with his front feet resting on the bars, with trace of injuries! The patient was transferred to Weirfield Wildlife Hospital in Lincoln where he was fed and given water before being released.
- Sky news
---
School forces boy to chain-smoke 42 cigs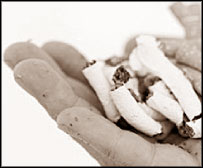 A Malaysian schoolboy was forced to smoke 42 cigarettes in two hours by his English teacher after she found a cigarette in his locker, a newspaper has reported. The punishment dished out to 16-year-old Mohd Alif Arifin left him unable to eat for nearly a week because he kept coughing and had swollen lips, the boy's aunt told the New Straits Times. Fourth form student Alif, who claimed he knew nothing of the cigarette in his locker, told the paper: "It went on for more than two hours. I was forced to smoke four cigarettes at a time until I finished 42 cigarettes."
His aunt Faridah Mat Zain said "He was coughing continuously and he was very quiet. But two days later, I noticed his lips were swollen and got him to tell me what happened. He couldn't eat for five days." Alif was taken to a clinic which referred him to Langkawi Hospital, she said. A school official said the institute had apologised to the boy's uncle, who lodged a police report when he found out about the punishment. He said it was up to the state's education department to take action against the teacher.
Sky news
---
Chinese bride trains eye on wedding dress record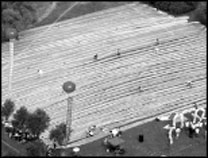 A Chinese bride is hoping to enter the record books after getting married in a wedding dress with a train more than 2 km long trailing behind her.
It took guests more than three hours to roll out the gown, complete with 9,999 silk red roses attached to it, in the northeastern province of Jilin, state news agency Xinhua said.
"Both the length of the dress and the number silk roses pinned on the wedding dress can make history," said groom Zhao Peng. Zhao, who has applied to Guinness World Records, said he was inspired after seeing a story on the previous record holder in Romania, where the dress measured just over 1.5 km. The dress cost around 40,000 yuan ($5,856), which prompted initial opposition to the plan from his family.
- Reuters