In keeping with the now revival of the historic splendour of Sri Lanka, singer Sunil Malawana launched his new music video Ashokamala for telecast on the electronic media.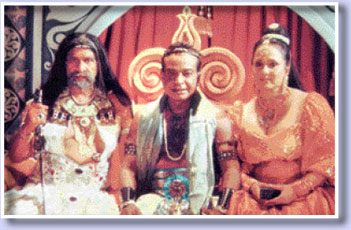 According to Sunil the time was right for artistes to step in and help the authorities to instil in the youth and the future generation an appreciation of the history of our country that hitherto has been shadowed. Accordingly he thought that the song Ashokamala composed by Vincent de Paul Peiris with lyrics by Karunaratne Abeysekera fitted the bill. With music direction by Chandral Fonseka, Sunil was happy with the result.
The storyboard of the video was created and directed by Wide Angle Productions and features some creative acting by Robin Fernando, Sanoja Bibile, Rizvan Fa and Sheroshi Romeshika.
The choreography is expertly handled by Channa Wijewardena and his troupe with background creations by Udeni Subodhi Kumara.
The scenes in the video have been colourfully captured giving Ashokamala a lasting impression.
Sunil Malawana is no stranger to the Sri Lankan music industry. A former member of Super Golden Chimes, he says that he learnt his music from the legendary Clarence Wijewardena and his first song Api Dedena which was released in 2003-4 to coincide with the re-union concert of the Super Golden Chimes was an instant success.
Mala which was released in 2005 was a major hit and topped the charts on every TV channel. Next came Katath, Katath which was released in 2007 and which turned out to be a hit with the younger generation. And now Ashokamala is bound to make a similar impact.
---
Frangipani
The flower Frangipani gave inspiration to Kapila Palihawadena to hold a workshop for dancers which he did on August 10. Now there is a repeat at Goethe Institut, Colombo on September 6 from 10.00 a.m. to 2.00 p.m. Kapila's dance artistry is a combination of Kandyan, Classical ballet and Angampora.
---
Tunes of Retro years
The groups Rebels and Souled Out will be featured at an evening of tunes of retro years at the Bentota Beach Hotel on August 29.
---
The Ocean
Today is the last day of the Ocean - a ballet presented by the Dance World Centre directed by Kanthi Ranchigoda at the Lionel Wendt Theatre.