More on painting Flowers and leaves
In a previous lesson I showed you a simple method to paint flowers. There are variety of flowers that can be painted in different colours. Some can be painted in one colour.
This lesson shows you how to apply one colour as a basic guide for colouring for any beginner.
Figure 1 and 2: First the outline is shown on left top as an initial sketch a dotted circle, stem and two leaves. The illustration at the bottom shows you a complete painted flower with petals, stem and leaves.
The colour I have used for the petals is a light rose violet and for the leaves permanent light green.First a transparent violet wash is put down over the background leaving reserve space for the white of the paper to show separate shades that must not be blended. Notice the white space on the centre of the flower.
Figure 2 shows a plain outline of the bud on the left and flat colours applied on the illustration on the right.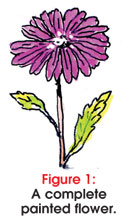 The sketch on the left on Figure 3 shows a completed flower bud in colour. Notice the flat pale orange colour applied with thin lines to give a shaded effect.
A completed flower on top right with colour shows the petals painted in a strong orange colour. Leaves are painted in green and stem with a brown colour. The final touches are done with pen and ink to show the shading.
More on painting flowers will be published next week