Cover Story
In Ampara
Enjoying themselves...
Our photographer Samantha Weerasiri captured this picture of schoolchildren of the Banduruduwa Vidyalaya in Ampara enjoying themselves on a makeshift cadjan hut raised on stilts and seen attempting to slide down a bamboo matslide.
Banduruduwa Vidyalaya is in a faraway village off Ampara, where the students have little or no facilities to play. They don't even have a school playground and enjoy their playtime at the grounds nearby with mud holes and uneven ground but this is no detriment to their enjoyment. They have found innovative ways of overcoming these difficulties. Some of these children don't even have shoes to wear to school but thanks to the Government they say they can attend school because of the free books they get and school uniforms that are given to them.
---
Back Cover Story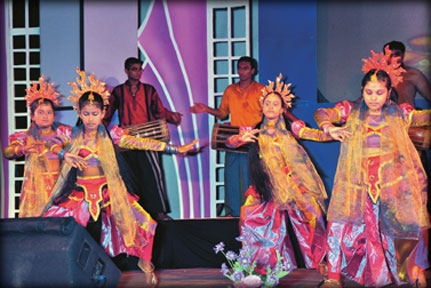 Buddhist Ladies College, a premier Buddhist institute in Sri Lanka held its annual Niromini Concert at the Navarangahala.
The annual event showcases talents and skills of students of the school in drama, dance and singing. The concert has been held for the past few years and many talented students have been given the opportunity to show their talents.