Susil' s natural flair for picture- story illustrations

A few kilometres away from the Homagama junction lies a path with a bend shaded by palm trees circled by the Ganewatta Purana Raja Maha Vihara with a long history of early Buddhist architecture. Once inaccessible, the roadway now modernised and carpeted leads to a small village known as Hokandara. It has now been transformed into a bustling town with a row of tea boutiques, small shops selling clothes and other items of fashion. The men, confined to the loin cloth gave no heed to their clothing.
The women in a slip of a blouse with a low open neckline were clad in colourful chintz cloths and revealed inches of their bare midrift.
Their complexion is a soft brown, something like the shade of unburned coffee, and their hair was tied in a big konde at the nape of the neck. In clear cut features, with dazzling white teeth and bright eyes the women were a target for the admiring glances.
It is in this village of Hokandara that Susil Jayasantha Perera was born on December 14, 1972. He enjoyed the triple blessings of the rich earth, warm sunlight and sweet rain of the village, above all, its picturesque scenery and artistic treasures. A few towns in the world were better equipped to feed the eyes of a growing child, with the wonder of beauty.
No doubt Susil grew up in the typical surroundings of a home in which there was an ardent interest for art and music. His elder brother was a musician while his mother was a housewife and an artist. Susil was fascinated by his mother's paintings from childhood, and expressed his desire to become an artist. His home was filled with sketches and paintings drawn at random by his mother while his ears echoed with Hindustani Ragadara music and Sinhalese folk songs. His early education was at the Dharmapala Vidyalaya and he completed his education at Mahanama Vidyalaya, Colombo. From early childhood Susil showed his talents on the walls in his home, in the classroom and in the temple. Whenever he could lay his hands upon a bit of paper and a pencil or charcoal he made sketches of people, animals and birds. In his constant eagerness to draw he didn't care much for studies. His mother soon realised that Susil would be an artist like her. So, she helped him tremendously to promote his artistic potentials.
Susil's talents as a picture-story illustrator was recognised by his first appointment as an illustrator of comic books by a leading book publisher in 1991. His natural ability to draw human figures and create picture-story illustrations spread far and wide and enabled him to work in various newspaper organisations.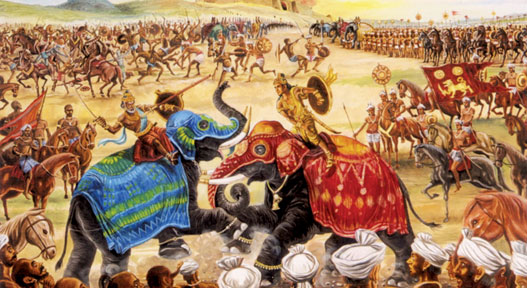 During this time picture-stories became popular among readers, especially among children. Susil started producing picture-stories dealing with manifold activities of the people, bull fights, bandits, courtships, seduction, historic events and Spartacus' Saman Piccha Sandu and they became very popular among the readers.In 2002 the novel Sangayana was published as a picture-story book. He came under the influence of Ven. Kirama Vimalajothi, the director of the Nadimala Buddhism Cultural Centre to do illustrations for the publications printed by the institute. His book cover illustrations for a series of books entitled, The Buddhist way of life circulated among Buddhist English Schools and is an outstanding contribution in his career as an artist.
Susil participated in many group exhibitions and won awards. His huge paintings done in oil on canvas on Jathaka stories and religious pictures, "Buddha with his Five Disciples", The Birth of the Buddha", 'Princess Sujatha offering milk rice, are alive with the flawless richness of green, red, yellow, and blue with brisk brush strokes. The colour is low keyed and the designs meticulous in balance.
His enormous output in creative achievements has won accolades from religious dignitaries. Besides Susil's dedication to paint and drawing, he is engaged in commercial work and designing art and commercials for television, creations for exhibition stalls, and contributing cartoons to various newspapers. He conducts an organisation on graphic designing, 'Susil Sri Creations. To this day he stands tall with a sense of satisfaction and an innocent pride.