A facet of music with a mix of elegance
The De Lanerolle Brothers have effectively adapted an innovative and insightful approach to bring into life the songs of the golden era. What is noteworthy is that over the years they have attracted audience not only from the older generation who have lived through that era but also teenagers and youth who have often only heard of the masters.
Their repertoire is rich and covers the immortal songs of the masters such as Elvis Presley and Frank Sinatra. Significantly, those masters marked a seminal milestone in the evolution of English popular music.
It is said that music binds people together but I would conclude that together with that facet Rohan and Ishan De Lanerolle relax the audience and bring so much satisfaction to their hearts.
The two brothers never fail to thrill their audiences and at times one wonders could they ever do something wrong. Some sections in the music industry have argued that this genre is easy to sing but I can assure you that what they do is not easy by any means.
It takes a musical skill to sing in harmony and that too with the proper chords and blending and it is another Herculean task to sing to the backing tracks as it is a do or die situation.
Given that the entire concert is with backing tracks, one also needs to be timing perfectly to match the track and not vis-a-vis where an orchestra or band could easily adjust to the singer/s.
The De Lanerolle Brothers have brought in a different musical culture to Colombo taking music to a different level and one of the cultures is that concerts should start on time irrespective of who is in the audience. We hope other musicians will take a leaf from the brothers' book.
Another culture is that they ease into their performance with little or no fuss and always deliver with a touch of class. Humbleness is another culture that is astute in them where one can feel that they are humble to the applause with no pompousness.
It could also pull-off a four course sit-down dinner concert with singing for over an hour in 150minutes, and this they do 3 times a year.
How they do it, is another matter but one can understand why they have been continuously at Waters Edge as it appears everything works like clockwork and everyone who is part of the production of the show, knows exactly what they are supposed to do. Musically, they pick up the mikes and simply sing! So, the fourth anniversary concert was no different at the Waters Edge when they gave their fans another night to remember.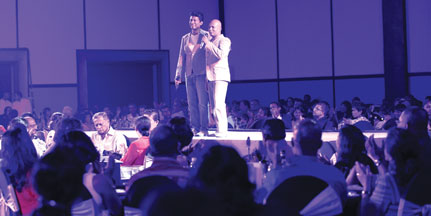 If one thought the duo could only sing English songs, they are sadly mistaken. The Sinhala classic Master Sir was sung with such ease and emotion that it was the highlight of the evening.
And as Rohan promised, we will hear more of this with Tamil songs too. Other notable hots of the evening were : Only You, Marry Me, Funny Familiar Forgotten Feelings, Banks of the Ohio, Save the Last Dance for Me, among others.
It was evident that they had a predominantly younger audience than before which means there are loads of people following them to view the concerts.
They even went on to take requests from the audience which made the audience feel part of the show and that they belonged there.
The De Lanerolle shows are also not limited simply to music.
They ensure that each person who comes for the show also walks away as a winner.
Each person walked away with De Lanerolle Tea, SPA Ceylon compliments, The Central Hospital health check coupons and a free Dialog TV HD upgrade.
The highlight though was Singer gifting a television and a phone, and Qatar Airways giving away two tickets to Nairobi and London. Dialog gifted the brothers two Samsung S4 phone vouchers which will be launched later this month.
I am sure all fans and partners will look forward to March 2014 when they unfold their 5th year anniversary.
I reliably understand that they will be collaborating with a couple of British artistes mid year when they unfold their Classical / Semi-classical and Broadway repertoire accompanied on the piano only.