An aesthetic journey of entertainment for children in Tangalle
Somalatha Subasinghe's Lanka Children's and Youth Theatre Foundation, popularly known as Play-House, Kotte in association with the Committee for the Development of Art Appreciation by Children in Tangalle will present Musical Theatre for the Family, at the Tangalle Town Hall from March 12-14. This is the first time that a festival of theatre for children will take place in Tangalle.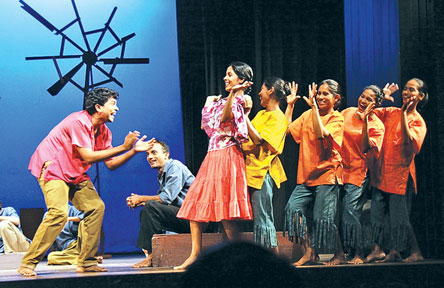 "It is important to cultivate and sharpen aesthetic values and skills within ourselves from childhood. Today ,we are in a tricky world where we are only concerned with accumulating knowledge rather giving any thought to gain wisdom.
That is where we lose concern on moulding the aesthetic skills and values within ourselves which help to create a well-balanced person with qualities such as love, responsibility, friendship, courage, trust and social responsibility which cannot he gained by knowledge," said the living theatre legend, veteran dramatist and actress, Somalatha Subasinghe.
"I started my professional career in theatre in the late 1950s which was Prof. Ediriweera Sarachchandra's era of the arts. At that time his attempt was to experiment dramatic elements through folk rituals and tales," she said.
Her very first stage play was Raththaran by Prof. Sarathchandra which was again an experimental dramatic exercise using Sri Lankan folk ritual Nenchi Kolama.
She played the main role in Gunasena Galapaththi's Muhudu Puththu which was a ground breaking play in the 1960s and elevated her as a talented young actress who is an asset to the Sri Lankan theatre.
"Though many said Muhudu Puththu is an adaptation of the Spanish dramatist Garcia Lorca's Yarma, he was only influenced by the plot and he created the story which suits the Sri Lankan atmosphere and which I appreciate very much.
Before that we had never seen the realistic art form on stage which was a novel experience for us. To be frank, it was a character for which I fell in love with theatre and wanted to continue and committed my life to it", she said.
The festival is also in honour of Subasinghe's commitment to the Sri Lankan theatre and her contribution to the enhancement of the Sri Lankan child's imagination, for over five decades. She said her influence for the children's theatre was through children's plays created by W.B. Rathnayake, Bandula Jayawardhana, Gamini Gunasena and Wimal Diyasena.
"In those days in socialist countries such as the Soviet Union, Czechoslovakia and Cuba they had state support, especially for the children's theatre because they understood the gravity of improving the aesthetic skills and values among children for the well-being of a society, and learning theatre is part of their education too.
I got the opportunity to attend many theatre schools, workshops and festivals organised in these countries and gained knowledge and experience by attending these events," she claimed.
"Child is a primitive stage of man. So folk tales and rituals come from the primitive stage of mankind and I learnt it is the best and simple way of expressing to children," she said.
Punchi Apata Den Therei and Toppi Welenda are based on well-known folk stories and are produced as musicals, and in the adaptations, new characters and situations have been incorporated, particularly, to communicate with the Sri Lankan child.
The production style of the plays has been developed to give the young audiences and the whole family an aesthetic journey of entertainment. The plays provide the opportunity for an intellectual and entertaining discourse with children. Both plays have been performed at international children's theatre festivals in France, Bangladesh and South Korea and have been toured in India and Australia.
Hima Kumariya based on the original classic - Snow White and the Seven Dwarfs - has been masterfully localised and recreated within the Sri Lankan fairy tale tradition.
With a haunting and enchanting original sound track, lots of songs and dance, dark forests, timid fairies, funny dwarfs, jealous stepmothers and anxious mirrors - Hima Kumariya will entrance your child and take you back to your own childhood. In addition to the beauty and power of the fairy tale coming alive before your eyes, Hima Kumariya is an educative and important piece of theatre for children.
Vikurthi (Distortion) is a satirical exposure of a hapless generation of youth whose lives were dominated by an incessant struggle between the parents' aspirations and the youth's abilities and preferences.
In the 1980's, at the time the drama was conceived, the widespread social tendency was the aspiring parents trying to achieve missed opportunities of their own lives through their children. Consequently, the children were forced to study for competitive government examinations such as the GCE (O/L) and GCE (A/L), specifically in the Science stream disregarding their aptitudes and available resources at schools and the universities.
The play discusses in depth how this anti-social process denied youth of their own life, which in turn deeply affects them in many ways. The production is a semi-musical which is a familiar theatrical experience to the local audiences.
All the plays are written and directed by the living theatre legend, Somalatha Subasinghe. The plays illuminate their creator's vision of educating and nurturing the children and youth of the country through the medium of theatre to be humane and compassionate beings.
Punchi Apata Den Therei (We Know it Now) and Toppi Welenda (The Hat Seller), will go on the boards on March 12 Hima Kumariya (Snowwhite) on March 13 and Vikurthi (Distortion) on March 14 at 8.30 a.m. 11.30 a.m. and 3.30 p.m.
Music for the plays is by M.R. Chulasinghe. The cast comprises Kaushalya Fernando, Prasannajith Abeysuriya, Wickrama Seneviratne, Mayura Perera, Sulochana Weerasinghe, Dilum Buddhika, Geetha Alahakoon, Dasun Pathirana, Pramod Edirisinghe, Dilip Kumara, Thilina Perera, Palitha Abeyratne, Yashodha Rasanduni, Kumudu Wickramathanthri and Rumali Chamathka.