Book Launch
There is Something I Have to Tell You
Madhubhashini Disanayaka Ratnayake's Gratiaen Award-winning novel There is Something I Have to Tell You will be launched at the Sri Lanka Foundation, Independence Square, Colombo 7 today at 4 p.m.
Also to be launched are her, A Strange Tale of Love short-listed for the Gratiaen Award 2005 and the revised second editions of her short story collections Tales of Shades and Shadow (Gratiaen Short-list 2001) and Driftwood (State Literary Award for the Best Collection of Short Stories in English, 1990).
The evening will be one in which writing is celebrated in readings and music.
Ashok Ferry, Ramya Jirasinghe and Neluka Silva will read from Madhubhashini's work while Kaushalya Fernando and her friends will bring in an element of drama to the written word.
The chief guest, Tissa Jayatilaka, Executive Director of the Sri Lanka - United States Fulbright Commission, guest of honour, Prof. Walter Perera, Chairperson of the Gratiaen Trust, and Shamara Ransirini, Senior Lecturer Department of English, University of Sri Jayewardenepura will be among the speakers.
Music being integral to Madhubhashini's writing, there will be much of it on stage that evening as well. Ravibandu Vidyapati, Menaka de Fonseka Sahabandu and Chintaka Jayakody will be among the musicians who will provide music to accompany the written word.
Madhubhashini is a Senior Lecturer and Head of the English Language Teaching Unit of the University of Sri Jayewardenepura. She has a Master's in English and American Literature with a focus on Creative Writing from the New York University which she attended on a Fulbright scholarship.
The books are brought out by Prajaya Studio Publications.
---
Pansiya Panas Jathakaya Volume 2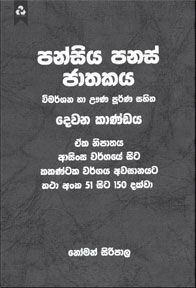 Norman Siripala's latest book on Buddhism Pansiya Panas Jathakaya Volume 2 will be launched at the Dayawansa Jayakody Bookshop, Colombo 10 on March 19 at 10 a.m. It is a Dayawansa Jayakody Publication.
---
Under Velupillai Prabhakaran
Dr. Harischandra Wijayatunga's latest book Under Velupillai Prabhakaran will be launched at the Ananda Samarakoon Studio, Sri Lanka Broadcasting Corporation, Colombo 7 on March 12 at 4 p.m. Emeritus Professor Carlo Fonseka will deliver the keynote address.
---
S.G. Punchihewa Sithuvili Vivarana
S.G. Punchihewa Sithuvili Vivarana will be held at the Jayewardene Centre, Dharmapala Mawatha, Colombo 7 on March 12 at 3 p.m.
Author Sirilal Kodikara will preside over the ceremony to celebrate S.G. Punchihewa who will launch five of his books. Prof. Carlo Fonseka, Gunasena Vithane, Jayatilleke Kammallaweera, Denagama Siriwardane and K.W. Janaranjana will address the meeting.