Fishing a lucrative industry in Trinco
Fishing is a lucrative profession, but carries with it a grave risk. Fishermen who fish in the deep seas are out in the sea for sometimes three to six months at a time and leave their families to fend for themselves.Hettiarachchilage Krisantha Menika, a fisherman we spoke to us at the harbour premises said that for several years he was engaged in fishing and earns enough money from this industry. But that it was a risky profession and sometimes they faced a deadly situation. A fishing vessel travels hundreds of nautical miles to find fish breeding spots.
"We stay in the deep sea for nearly a month. Nearly 3,000 litres of fuel is required to stay out for a month in the deep sea. They take enough ice with them to preserve harvested fish. His crew consists of six fishermen. On certain days the harvest is more than 6,000 kilos of fish", Krisantha Menika said.
"We are cautious in the deep sea and try not to stray out of our territory. If we trespass Indian Coast Guards will re-direct us saying we are in their waters. But Indian fishermen fish in our waters indiscriminately. A sustainable solution has to be found to this issue", Krisantha Menika said.
"People on land are not aware what Indian fishermen do in our territorial waters. Even the small fish varieties are harvested by Indian fishermen. Destructive fishing methods used by Indian fishermen have severely affected marine resources", he said."If Indian fishermen continued to poach in this manner, our valuable fish resources will be depleted. "We can't prevent them from fishing in our territorial waters as they come in giant fishing vessels", Krisantha Menika said.
W.P. Randika, a migrant fishermen from Devundara said that his crew consists of five members. As this is the fishing season a massive haul of fish can be harvested in the Trincomalee seas. They will be in the Trincomalee seas for nearly six months and use the Cod Bay Fishery Harbour for their convenience."All facilities required by fishing vessels are supplied by the Harbour Management", Randika said.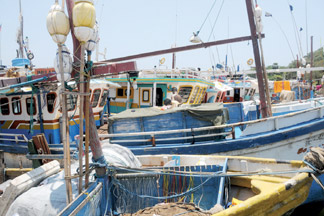 Fishing vessels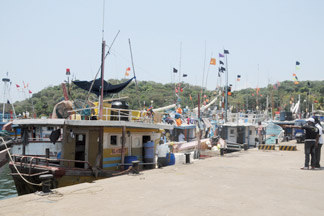 Fishing vessels anchored at the Cod Bay Fishery harbour.
Dammika, another fisherman said that fishing was a lucrative income earning mode. When asked whether he met with accidents in the deep sea. Dammika replied in the negative. He said he had an idea to improve the industry in future.Hundreds of fishing vessels are anchored at the Cod Bay Fishery harbour and most of them are migratory vessels, Dammika said.
"The fishermen in the region should be permitted to fish in international waters. There is ample fish in the international waters", Dammika said.
"A large number of giant Indian Trawlers are fishing illegally in the North in Sri Lankan territorial waters. Due to this the Sri Lankan fishermen's income has considerably decreased. The destructive fishing methods of Indian Trawlers damage fish breeding spots.", he said.
Indian fishermen who trespass into our territorial waters fish with the help of trawlers, what they do is they drag the fish to their side from our waters and then take the haul of fish. Even the rocks under the sea are dragged by these trawlers, he said.
The Government has allocated Rs. 242.5 million to improve facilities at the Cod Bay Fishery Harbour in Trincomalee. The construction of a slipway, a crane with the capacity of lifting 65 metric tons of cargo and renovation to the existing slipway will commence shortly. Rupees 100 million has been allocated for this program, Manager of the Cod Bay Fishery Harbour, Heshara Sanjeewa said.
He said that tenders have been opened to implement the proposed projects. An agreement has also been signed with a company to set up the crane. Projects are expected to be completed before the end of this year. An office building and a building for security officers will also be constructed under the second phase of the extension project.
"The Cod bay Fishery Harbour plays a pivotal role in improving the fisheries industry in the region and the living standard of a large number of people who depend on the fisheries sector directly and indirectly", Heshara Sanjeewa said."The Government is committed to improve the facilities of The Cod bay Fisheries harbour as it is a major fisheries hub in the Eastern Province", Sanjeewa said.
The Cod Bay Fishery Harbour consists of two jetties. The 150 metre-long jetty was set up when the Harbour was developed by the Government, recently using Rs.100 million assistance raised fromthe Asian Development Bank, Sanjeewa said. He said that a 300-metre long breakwater was also constructed.
Sanjeewa said that there are two giant fuel tanks in the harbour premises. The storage capacity of the fuel tanks is 150,000 litres. "A New jetty, a filling station, an underground fuel tank and a water tank were constructed utilising nearly Rs. 140 million assistance given by the ADB. The entrance road was also carpeted using this funds", he said. "All facilities required for fishing vessels are available in the harbour including fuel, ice and water. Nearly 150 multi-day fishing vessels belonging to fishermen in the Trincomalee district and nearly 500 migratory fishing vessels from the Southern province (Kudawella, Nilwella) and Western Province (Negombo, Chilaw) have been registered us", Sanjeewa said. A large number of migratory fishing vessels from these areas can be seen in the Trincomalee seas during the season, Sanjeewa said.
There is an ice plant in the harbour premises operated by a private company to distribute ice to fishing vessels daily, he said.Nearly 3,000 families in the region depend on the Fishery Harbour. Two thousand indirect jobs have also been generated by the Harbour so far, Heshara Sanjeewa said. "Cod Bay is an export-oriented fisheries harbours. A massive fish harvest brought to this harbour is directly sent to export companies in Colombo, Chilaw and Negombo areas through middlemen", Sanjeewa said. He said that Trincomalee seas is famous for tuna. The weight of a large Tuna may be over 30 kilos. There is ample space to anchor a large number of fishing vessels including migratory vessels at the Cod bay Fishery harbour, he said. When compared to the Valachchenai Fishery Harbour, Cod bay is the largest in the region, he said.
Meanwhile, the Government has provided adequate facilities to boost the fisheries industry in the Eastern Province. Fisheries and Aquatic Resources Development Minister Dr. Rajitha Senaratne has instructed the relevant authorities to look into the well-being of fishermen in the province, Ministry Spokesman D.S. Narendra Rajapaksa told the Sunday Observer.He said that the Minister, Dr. Senaratne also instructed the relevant authorities to get the fishery community involved in national development.
The Fisheries Ministry has provided enough incentives to improve the living standards of the fishing community, according to Rajapaksa.The Fisheries Ministry has also taken steps to improve the living standards of fishermen in the region, he said.
He said that fishermen from the North and East contribute a considerable quantity to the national fish production. Fisheries Minister, Dr. Senaratne has distributed fishing nets, boat engines, life jackets and other required equipments in the industry. Vessel Monitoring System (VMS) has also been introduced to protect fishermen from going missing and to sing direction.