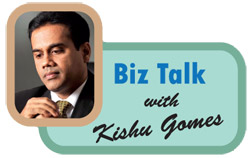 Treat suppliers as customers for sustainable value delivery
'The customer is king', is what we believe in and live by, as marketeers. Of course we know well that a business has more dependencies though; shareholders, employees, advertisers, channel partners, government and suppliers and managing all these relationships equally well is crucial for business success.
But how many of us spend time and put in a planned effort to ensure that these relationships are well maintained for the overall health of the business. Pause for a moment and take a count of losses of stock out situations you have experienced recently which in turn affected your customer.
Value-chain analysis looks at every step a business goes through, from raw materials or any other input to turn out a product or a service to the end-user.
The goal is to deliver maximum value at the least possible cost in the most efficient way to the customer.
What if you make a paradigm shift and think everyone is your customer, not just those that pay money for your products or service? Don't we want every single partner in business to love our business and do their best?
Being on both sides of the fence helps
A real relationship will know when to stop trying to push the latest item on to you as if their life depended on it.
A good relationship will go above and beyond just supplying an input. Most organisations predominantly focus on marketing to their current and prospective customers.
If they're smart, they should realise how valuable the supplier relationships are and steward them accordingly. How does 'your' organisation treat its suppliers? Do you recognise them for their 'On Time in Full' quality supplies to take costs out of your business?
Do you pay invoices on time or do you make them wait forever? Do you treat them as partners or do you think they're a nuisance? How many organisations think about their suppliers when it comes to brand reputation?
Word of mouth works on both sides of the fence. Treat suppliers poorly, and they will talk 'negatively'. Treat them with respect, like the partners they are, and they will talk 'positively'.
Suppliers can be your best friend or your worst enemy. Marketeers are only interested in the vendor when they want to get something from them. That's not what relationships are all about.
Don't make 'partnering' just a fashion
Suppliers, at least your key ones, are essential for your success. While the word 'partnering' is grossly overused, developing strong and mutually beneficial relationships with your suppliers is something that you must strive to do. Treat your suppliers like you treat your customers.
If you want your customers to come back for more, you should have a good vendor relationship to encourage them to come back.
Supplier contacts in your organisation may come and go so establish contacts within the ownership, executives, or management level of your suppliers.
Let them know that they are important to you, and it will make it much easier to talk to the right person when you have a problem that needs to be resolved. Make sure that your vendors understand your business, where it is today and where you hope to take it in the future.
Recognise that your suppliers will make mistakes, incorrect or late shipments, bad products and more. While you can't tolerate this if it happens regularly, deal with it. Good suppliers will make it right, just as you will with your customers, who are likely to forgive you if you have developed a good relationship with them.
It's alright to push for the best pricing you can from your suppliers. But you need to make sure that they remain successful and that means they must make money on what they sell to you. Pay your suppliers on the terms agreed upon.
If you can't for some reason, call them. They are likely to better understand you if you're honest and direct with them and have built a relationship with them.
It's not acceptable to just avoid the subject, as you won't accept that from your customers. If your supplier relationship is not strong then it is likely that it will not last. Quality, pricing, convenience, or other reasons will end it at some point.
However, to avoid being dictated to by the not-so-good suppliers, have other potential suppliers lined up to be ready to replace the existing suppliers. Thinking and acting on the premise that 'everyone is a customer' will help you grow.