Landmark agreement:
ANCL launches e-Mobile Adz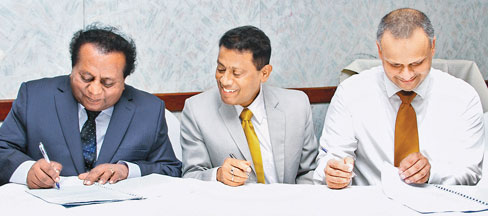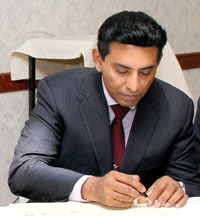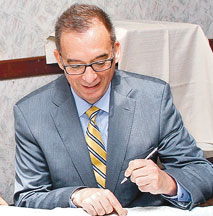 Chairman, ANCL, Bandula Padmakumara, Director Editorial, Seelaratne Senerath, Senior General Manager, Dialog Axiata, Fariq Cader, CEO of Mobitel Kapila Chandrasena, CCO Etisalat, Robert Lee sign the agreement.
Pic: Sulochanana Gamage.
The Associated Newspapers of Ceylon Limited (ANCL), the country's leading publisher of newspapers in all three languages signed a landmark agreement with three leading cellular service providers, Dialog, Mobitel and Etisalat to offer 'e-Mobile Adz', a unique SMS-based system for placing classified advertisements in ANCL newspapers.
The ground-breaking ceremony was held at the Galadari last week.
It will enable nearly 80 percent of the 20 million mobile subscribers throughout Sri Lanka to place classified advertisements in the Silumina and the Sunday Observer, the weekend Sinhala and English newspapers with the largest circulation, through their mobile phones in a few easy steps.
ANCL Chairman Bandula Padmakumara said that the agreement is a historic one as three mobile service providers jointly signed on a single paper.
He said that while this agreement has opened a new gateway in the mobile communication industry it will help create a strong bond between the three operators and ANCL.
Mobitel PLC sources said that the agreement will help customers save time and travelling cost and added that they could obtain confirmation of their ad placement instantly.
Customers need a Dialog, Mobitel or Etisalat connection (post-paid or pre-paid) to place classified ads containing up to 45 words in these newspapers. Customers will save time and travelling expenses, while receiving instantaneous confirmation of their ad placement. The service will be available through SMS and a free Android App and will be extended to all Sinhala and English newspapers published by ANCL in the near future. Apart from the normal charge for the advertisement, there will be no additional charges.
Dialog, Mobitel and Etisalat users can dial #429# to avail themselves of the service, which will provide a unique reference number and guide the user through each simple step. Users can select the publication, date and the category of advertisement (e.g. Cars for Sale, Houses for Let/Lease) in a few prompts. Once accepted, a confirmation message from ANCL is sent to the customer with details. In case of rejection, the money will be refunded to the customer through the service provider.
This is yet another innovative customer-focused initiative by ANCL, which has always been at the forefront of technology. ANCL is the market leader in classified advertising in Sri Lanka and its latest partnership with the three leading mobile service providers, signifies ANCL's commitment to serve its readership and clients through the convergence of traditional and new methods of communication.