Hameedia introduces Wedding Collection
Hameedia has introduced an European-theme collection, 'European style, on your dream day' where a range of European fabrics, styles and fashions from its Envoy and FH brands are available.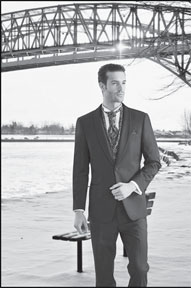 The luxury Wedding Collection is all about bridegrooms and the bestman.
"Fine detailing and exquisite craftsmanship contribute to making the design a part of a world-class wedding ensemble," a spokesman for Hameedia said.
"Every design was done using Italian fabrics. Tailor-made to fit each individual, the collections showcase the epitome of fine clothing with novel creations," said Fouzul Hameed.
"This year's collection is all about style and look. The cut, the feel and the fabrics give you the real international look and feel, not forgetting the style and fashion which are current and in vogue," he said.
Hameed said that one's wedding is undoubtedly the most important day of one's life. "One must thus endeavour to be a class apart. The complete wedding collection from Hameedia has been custom-made to ensure that the groom complements his bride."
The Grooms' Studio' caters to the minutest details of bridegrooms-to-be.