Sinhaputhra Finance installs car lift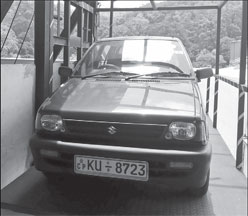 The covered roof top at the fifth level of Sinhaputhra Finance PLC head office in Kandy is now a multi-purpose car park and entertainment venue.
"The 4,500 square foot roof top venue has a panoramic view of the city of Kandy. During the day, the hills that surround Kandy come into dominant focus, while at night the lights of the city and the homes on the hills of Kandy add sparkle to the venue," a spokesman for the company said.
The management will offer the venue at very reasonable rates for weddings, corporate events, education fairs, theatre performances, exhibitions and charity sales in the near future.
The goods lift transports all required equipment and up to 30 people at a time.
The area is also served through three stairways and two lifts and access is through the main building. The management proposes to encourage evening and night functions and functions during weekends until a separate entrance is built.