AMW introduces Nissan X-Trail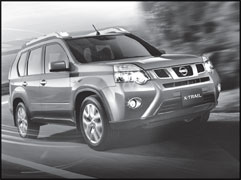 The Associated Motorways (Pvt) Limited recently introduced the diesel engine version of its Nissan X-Trail.
"The only vehicle in its class to be manufactured in Japan, the new Diesel X-Trail offers a practical, spacious, luxurious interior. It is an ideal family vehicle with ample leg room, seating capacity, xenon lights, extra-large sunroof and switchable 4x4 mode," a spokesman for the company said.
The X-Trail is equipped with an advanced six-speed automatic transmission and safety features such as six air bags.
"The demand for Sports Utility Vehicles (SUV) is rising across the globe and this trend is apparent in Sri Lanka as well. With this new introduction, AMW and Nissan Motors of Japan have created an unbeatable offer for the discerning the SUV buyer," said General Manager, Nissan, at Associated Motorways, Yohanna de Zoysa.