Mobile subscription, internet penetration increasing rapidly - ITU
According to the latest world ICT facts and figures for 2012 and 2013, released by International Telecommunication Union (ITU), mobile subscription and internet penetration is increasing rapidly and continuously in all regions of the world.
Releasing the latest data bulletin, Director of the ITU Telecommunication Development Bureau, Brahima Sanou said that the mobile revolution is m-powering people in developing countries by delivering ICT applications in education, health, government, banking, environment and business. "This mobile miracle will hasten our pace towards sustainable development."
Mobile phone subscriptions in 2013
According to the report, between 2005 and 2013 the number of mobile-cellular subscribers in the world has grown from 2,205 million to 6,835 million. The average world mobile penetration rate stands at 96.2% today. The penetration rate is different for each region and the CIS states have the highest penetration of 170%, corresponding to 476 million subscribers.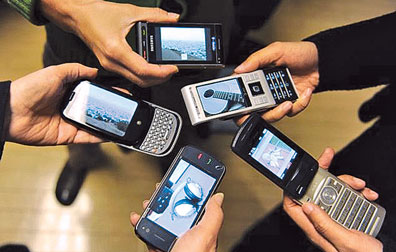 The lowest penetration corresponds to Africa, with 63% penetration and 545 million subscribers.
Today, there are almost as many mobile-cellular subscriptions as people in the world, with more than half in the Asia-Pacific region (3.5 billion out of 6.8 billion total subscriptions).
As global mobile-cellular penetration approaches 100% and market saturation is reached, growth rates have fallen to their lowest levels in developed and developing countries. Mobile-cellular penetration rates stand at 96% globally; 128% in developed countries; and 89% in developing countries.
Internet users in 2013
In the first quarter of 2013, over 2.7 billion people are using the internet, which corresponds to 39% of the world's population. By world regions, the estimates given by ITU are: Africa - 140 million users, Arab States - 141 million users, Asia and Pacific - 1,269 million users, CIS - 145 million users, Europe - 467 million users, The Americas - 582 million users. In the developing world, 31% of the population is online, compared with 77% in the developed world.
Europe is the region with the highest internet penetration rate in the world (75%), followed by the Americas (61%). In Africa, 16% of people use the internet, only half the penetration rate of Asia and the Pacific.
In 2013, 41% of the world's households are connected to the internet. Half of them are in the developing world, where household internet penetration has reached 28%. In the developed world, 78% of all households are connected to the internet. Ninety percent of the 1.1 billion households not connected to the internet are in the developing world.
Europe and Africa are the regions with the highest and the lowest levels of household internet penetration: 77% in Europe, compared with 7% in Africa.
The majority of households in the Americas are online (61%), compared with around one third of households in the Arab States and Asia and the Pacific.
Between 2009 and 2013, internet penetration in households has grown fastest in Africa, with annual growth of 27%, followed by 15% annual growth in Asia and the Pacific, the Arab States and the CIS.
Over the past five years, fixed-broadband prices as a share of GNI per capita dropped by 82%. By 2012, fixed-broadband prices represented 1.7% of monthly GNI p.c. in developed countries. In developing countries, fixed-broadband services remain expensive, accounting for 30.1% of average monthly incomes.
In 95 countries, including 48 developing countries, the price of a monthly fixed-broadband subscription represented 5% or less of monthly GNI p.c. In 2012.
As services become more affordable, fixed-broadband uptake has shown strong growth and today there are almost 700 million fixed-broadband subscriptions, corresponding to a global penetration rate of 9.8%.
In 2013, the number of fixed-broadband subscriptions in developing countries will surpass those in developed countries. But there is still a wide gap when it comes to fixed-broadband penetration rates, with 6.1% in developing countries (and less than 1% in Sub-Saharan Africa), compared with 27.2% in developed countries.
Mobile broadband subscription
Mobile-broadband subscriptions have climbed from 268 million in 2007 to 2.1 billion in 2013. This reflects an average annual growth rate of 40%, making mobile broadband the most dynamic ICT market.
In developing countries, the number of mobile-broadband subscriptions more than doubled from 2011 to 2013 (from 472 million to 1.16 billion) and surpassed those in developed countries in 2013.
Africa is the region with the highest growth rates over the past three years and mobile-broadband penetration has increased from 2% in 2010 to 11% in 2013.
By early 2013, the price of an entry level mobile-broadband plan represents between 1.2-2.2% of monthly GNI p.c. in developed countries and between 11.3- 24.7% in developing countries. However, in developing countries, mobile-broadband services cost considerably less than fixed-broadband services: 18.8% of monthly GNI p.c. for a 1 GB postpaid computer-based mobile-broadband plan compared to 30.1% of monthly GNI p.c. for a postpaid fixed-broadband plan with 1 GB of data volume. Among the four typical mobile-broadband plans offered in the market, post-paid handset-based services are the cheapest and prepaid computer-based services are the most expensive, across all regions.
Internet gender divide
The estimated 2,749 million internet users present a gender divide that is more evident in the less developed countries where more men use the internet compared to women. In the developed world, there are only 2% fewer women than men using the internet. In contrast, in the developing world, 16% fewer women than men use the internet.