Painting a lion
The lion is a popular animal for artists to paint. Lions are found in the jungles and their main source of food is meat. A lion is somewhat of a domestic cat and so is familiar in appearance and is likely to lie fairly still for a long time giving you time to study and paint it.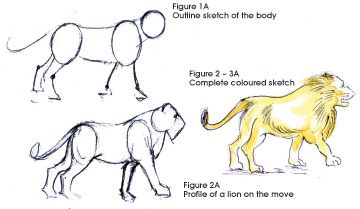 If you can draw and paint a lion accurately then you will be able to draw any animal. The graceful way it moves gives an impression of hidden power. A flexible coat and spine allows them to adopt a wide range of interesting poses.
Notice Figure 1. Observe the structure of the body before painting. Study the outline sketch done in 1A to begin with I have drawn three oval shape circles with a 2B pencil to get the correct formation of the animal.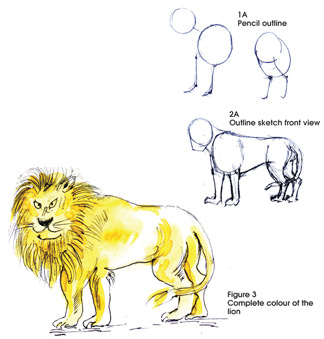 The problem is to paint the head of a lion. Many beginners go wrong here because a lion's skull structure is not easy to fathom at first glance. The bone formation is hidden by muscle and fur.
Figure 1 (2A) shows a profile of a lion on the move drawn with a thin pen sketch. Figure 3A gives you the idea of a coloured sketch. After the pen sketch is completed the layer of colour is applied. A pale wash is applied with yellow orcher.
Once the initial layer is dry you may finish the complete painting with ink pen or the tip of a pointed brush the details of hair.
The illustration shows a pencil outline (1A) the basic structure on top and 2A the outline sketch of the front view before colouring.
A complete coloured illustration is shown on Figure 3 at the bottom.
A wash of pale yellow ocher is put over the whole body except for the white chest, stomach and chin. Next the ears, toes claws and nose are defined with a fine brush. Long hair is applied to the tail. Short hairs are put on the lion's body, head and feet and whiskers to finish the painting.
The paper to be used is Whatman n180 gsm or Kent paper 150 gsm with slight grain, and brushes sable hair or Windsor and Newton No. 1, 2 and 6. You may do several paintings to be perfect in your colour mixture.