A book with a dual purpose
Preethimath Yuga Diviyata Dhanathmaka Asiri
Author: Menike Sumanasekara
Sumanasekara Publishers, Nugegoda
Menike Sumanasekara is one of the writers who have been relentlessly urging readers to be positive in all their dealings. Although there are many such inspirational writers in the West, language barrier has prevented most local readers to profit from their writings.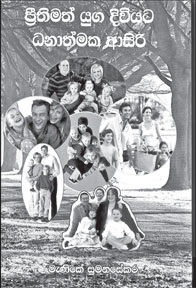 Sumanasekaraís latest book is about marriage. Many people get married and lead miserable lives. This is because they do not know how to put happiness into their relationships. The book opens with a grapic account of man who is a wonderful creation of nature. As the celebrated Greek dramatist Sophocles said the world is full of wonderful creations but man is incomparable. Despite the vast advances of science and technology, human life still remains a great mystery to everybody.
Astrologers
Being a downright rationalist the author rejects the claims of astrologers, palmists and soothsayers. According to her, they subscribe to the negative aspects of human psyche. She gives real life examples where people hesitate to get married because of astrological predictions. Her forthright views should be considered by those who still believe in astrology.
The book is ideal reading for those who are planning to get married. They will learn how to maintain a relationship based on mutual trust. Similarly, even married couples have some important lessons to learn from the book. If anybody reads the book with understanding, they will learn how to live in harmony with their partners. At a time the divorce rate is on the increase, the author suggests how to avoid unnecessary clashes and live happily.
Sexual relations
A large segment of the book has been devoted to explain the importance of sexual relations between the husband and wife.
In certain instances the wife keeps away from sexual relations giving various reasons. When this happens, most husbands seek pleasures outside marriage. The author drives home the point with many real life situations culled out from her long years of counselling.
The authorís views are based on modern psychological principles. As such, the book serves a dual purpose. It is a guide for those who need guidance. On the other hand, it inspires people to live happily and meaningfully.