A critique of the persecution of women
Giri Induwara
Author: Yamuna Malini Perera
Yamuna Malini Perera's Sinhala novel, Giri Induwara, is set in Wewegama, a rural environment of a Mahaweli Project, namely Victoria Reservoir. From there, the central character, Thirasa's family is in a migratory process as they had to leave their beloved old village on the orders of the government and settle down in Pallekelle, Kandy. Each displaced family was given half an acre of land and two and a half acres of paddy land. In a short time, the plots of land were cultivated by the new settlers with plantain trees and coconut palms. But the destiny of the family of Thirasa drives them further to Walana, Panadura, a semi-urban village. They had to adjust their lifestyle to suit the new surrounding. There is a bond of love between Thirasa and Sudesh which does not grow into full bloom as Upali marries Thirasa. Thereafter, her life runs through various vicissitudes leading to despondency.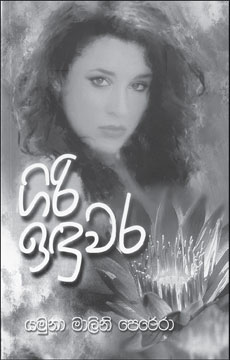 The theme of Giri Induwara is a journey into the heart of Thirasa. It is also the story of a man's treachery and a woman's weakness. Similar but more imposing themes come to my memory such as the following: We find in Wilkie Collins' The Woman in White, the story of what a woman's patience can endure, and what a man's resolution can achieve.
The Count of Monte Christo unravels the sage of the imprisonment of a young sailor, Edmond Dantels, for a crime which he did not commit. He escapes after 14 years in a dungeon and re-emerges as a charming and powerful Count of Monte Christo who acts as an avenging angel.
In The Count of Monte Christo, Mercedes, the betrothed of Edmond Dantes, is made to suffer unbearable agony for ten years watching over the sea hoping for the return of her fiance. And the theme of Emily Bronte's novel, Wuthering Heights, is akin to that of Giri Induwara in some way. That is the misery and suffering of Catherine the senior whose pain and frustration was heart-rending. The humiliation and frustration of Heathcliff prod him to take revenge on the wrong-doers.
Treachery
In Yamuna's novel, however, the treachery on the part of Upali goes unpunished. Thirasa, his legal wife, is made not only to bear with his intimacy with another woman, Sujatha, and do the domestic chores as a slave but also to bring up the illegitimate child of Upali born of his concubine.
It is hard for Thirasa to confess that the man to whom she has given her whole life to is the one man who cares least for her gift. Her motherly instinct to protect and bring up that child, a daughter, however much she despised Upali's ill-treatment and treachery is noble and unique. And that daughter's attachment and fidelity to her foster mother, Thirasa, is quite a contrast to her own son who is insolent and ungrateful to her since he is ill-advised by his father.
They journey into the heart of Thirasa is symbolic of the dark heart of the twentieth century which is full of violence, greed and hot desire.
One can wonder if Giri Induwara is a novel to promote the ideals of a Feminist Movement. There is ample proof for that too since there seems to be some exaggeration of the despair, extreme suffering and humiliation experienced by Thirasa.
She denounces the atrocities and resentment of Upali. But most often, Thirasa spends her time brooding over the imaginary bliss of her Prince Charming, Sudesh. Most of the time throughout Wuthering Heights, Heathcliff is hinted at and reported.
Just like that, Sudesh in Giri Induwara, is reported by Thirasa and her close associates. Heathcliff avenges himself of his enemies for the humiliation and his thwarted love to Catherine while Sudesh does nothing of the sort to achieve his end. He simply keeps away from Thirasa on a hearsay by Upali to the effect that her parents do not like him on grounds of his low birth. So Thirasa is left in the lurch.
Sensual pleasures
Desirous of indulging in sensual pleasures, Upali's nature is headstrong and domineering.
Thirasa's supreme sacrifice in nourishing the illegitimate foundling of Upali and Sujatha deserted by her own mother rises into Thirasa's spiritual ascendency over the passionate brutality of Upali.
A mother's overwhelming and gracious love for humanity manifests prominently over the lowliness of Upali who becomes a Pigmy before his tormented wife. It reminds one of Grusha in Bertolt Brecht's play, the Caucasian Chalk Circle, its Sinhala version being Hunuwataye Kathawa by Henry Jayasena.
There is in this novel, a touch of a study of cross-cultural forces. Upali's family is a hodge-podge of members who belong to Buddhism, Catholicism and Islam whose behavioural patterns, food habits and so on are in conflict rather than in harmony. They have been brought up, as indicated in the novel, according to the way of life of Burghers and Muslims. Burghers seem to have a merry-making style of life while Muslims appear to have carnivorous food habits. These facts are in constant conflict with Thirasa's vegetarian and religious attitudes.
Simple lifestyle
In Giri Induwara, I see a very heartening feature of the unassuming, gregarious and simple lifestyle of the rural folk that bind them together with a bond of camaraderie.
When uncle Sumanarathne and party arrive at Thirasa's home, the guests and hosts enjoy what the guests brought with them for tea – a bunch of plantain and a sweetmeat made of Kurakkan. After dinner, they partake of the pot of curd and honey for dessert.
Nowadays, this custom of sharing the eatables and sweetmeats brought by guests is treated as infra dig.
Thus, Yamuna's Giri Induwara is a critique of the persecution of women by dominant husbands, tragic humiliation of women by unruly and unfair husbands, a discussion on living habits of people of various communities and so on. Her attempt is a success.