Village thug meets his Waterloo
Manjula, a handsome youth turned village thug was always at hand to help the less fortunate. If the villagers faced any problems, he was the first person to come to their assistance. He was hero-worshipped by everybody in the village because of the 'services' he rendered.
Walivitaarachchige Manjula Krishantha was born and bred in Mahara, Nugegoda, a highly populated area.
Manjula 37, was a handsome well-built youth who always stood against injustice. He was prepared to risk his life and fight against wrongdoings. Manjula was also adept at martial arts. There was no one else in that area who could match his physique or his skills. He was more than six feet tall.
Manjula could not pursue his education due to poverty. His father had left the family when the children were small and he was living with another woman.
Manjula's mother did not brood over her husband's separation. She was determined to look after her children. She decided to live with another man because she knew they could not live without a breadwinner and her children would be helpless.
New man
Manjula called the new man in his house 'uncle'. The new man did not back out from the responsibility of taking care of his new family. He tried to maintain them by engaging in all types of menial work. He woke up early morning with Manjula's mother and worked from dawn to dusk to give the children a decent life and a good education.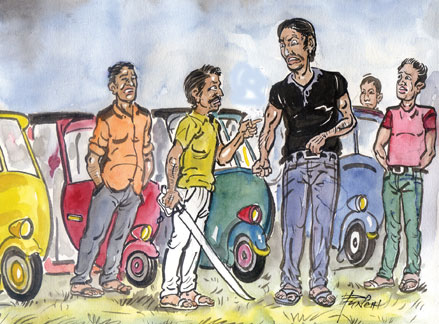 Manjula wanted to assist the family in whatever way he could. He took a whole lot of stringhoppers and hoppers prepared by his mother and 'uncle' to be distributed to eateries in the area. He rode his bicycle taking the whole load and did a quick distribution around town.
Unfortunately, for him while engaging in the business he began to keep company with undesirables in the village.
Now he was going on the wrong track and nothing would stop him from getting back into his former ways. Try as they might, his mother and uncle persuaded him to give up the company he was keeping but to no avail.
This resulted in him falling prey to gambling, smoking, drinking and even thuggery.
Manjula thought that he was the saviour of the village and engaged in all types of nefarious activities.
Marriage
Manjula got married to a girl of his choice. After some time he became a father of two daughters and one son. However, he was not interested in the welfare of his family and left them to fend for themselves.
Manjula began spending his time with undesirables in the area. Soon he became the village thug. Some of the villagers, however, adored Manjula because he volunteered to solve their problems even at the risk of his life.
Whenever he got to know about a quarrel that had taken place between his friends he would come on the scene and save even if they were in the wrong.
The villagers were afraid of him because of his brawn.
He came to be nicknamed 'Mahasona'. The people in Mahara Nugegoda, were mortally afraid of him.
Trishaw
A few days ago, Manjula's uncle bought a three-wheeler so that he could earn a regular income.
But what was worrying him was whether Manjula would get a parking slot at the regular three wheeler stand.
The uncle had told Manjula about the three-wheeler and asked him to find a parking slot for it.
Later, Manjula had gone to one of the three wheeler parks in Ganemulla, Ragama with his friends and demanded a parking place for his vehicle fearing reprisals, other drivers had consented to give him parking facilities.
After a few days, Manjula's uncle started another ploy to lure more passengers and began hiring his three wheeler at a reduced rate.
Complaint
He charged a fee that was less in comparison to that of other drivers.There were heated arguments with Manjula's uncle over the issue. Later, he rushed to his residence and informed Manjula of the situation prevailing in the three wheeler stand.
As soon as he heard the complaint, Manjula rushed to the three wheeler park with his two friends to confront the drivers and questioned them about the incident and then allegedly assaulted a driver. Manjula returned to his house with his friends and began drinking.
The other drivers had planned a counter-attack against Manjula and his friends. On that fateful day, one of the drivers had sent a message to Manjula to come to the park to solve the problem. When Manjula received the message, he was intoxicated as he had consumed too much liquor.
However, Manjula decided to go to the park with his friends. He never imagined that it would probably be his final journey. He bade goodbye to his young daughters and son and went to the three wheeler stand.
Killed
He, however, advised his friends to wait for him until he returns after solving the problem.
When Manjula reached the parking lot he received severe blow on his head with a sword.
He fell in a pool of blood and died on the spot. Ragama police said one suspect surrendered to the police. Three of the other suspects were arrested by the Kadawatha police.
Kadawatha Police OIC C.I Wickramasinghe and Crime OIC SI Jayathissa and a team from the Kadawatha police are conducting investigations on the instructions of DIG Vaas Gunawardena and SSP C.E. Vidisinghe of the Western province police division.