Cats: Book lovers of a different kind
Books interest not only children and adults, even cats seem to be book lovers. These cute pictures show a variety of cats looking with keen interest, while children read to them. The looks on their faces give the idea that they are book lovers and are listening to the stories being read to them with interest.
-Interest

---
[Cover]
Running for joy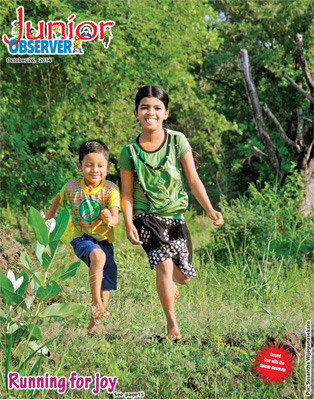 P.W. Rasangika of Ridee Orubandiwewa Secondary school, and U.W. Pasindu Nimsara of Pubudu Nursery school are brother and sister hailing from the ancient Veddah tribe in Dambana. With modern times their lifestyles too have changed - wearing clothes, speaking in Sinhala, and getting used to a city life. Our sataff photographer Susantha Wijegunasekera was in Dambana recently and he captured this photograph. Veddahs are the aborigines or indigenous people of Sri Lanka.
The Mahawamsa chronicles that Veddahs are descendants of prince Wijaya , the founder of the Sinhala nation, through Kuveni, a woman of the indigenous Yakka clan whom he had espoused. Many of them have adjusted to modern culture. They eat different varieties of food and are involved in activities which ordinary people do.
The youngsters on our cover page are the grandchildren of the brother of Uuruwarige Wanniyalaththo, who is the present leader of the Veddah tribe. He is not happy with this concept, and says that if the present generation of the Veddah tribe adopts modern culture, the rituals, the Veddah language and all the traditions he says will fade away.
He suggests that the history of the Veddah tribe and their language should be taught in schools in Dambana and should be added to the school curriculum. He says the authorities should take necessary steps to implement it.