Glimpse of History from ANCL Archives:
When Mahinda became the youngest MP...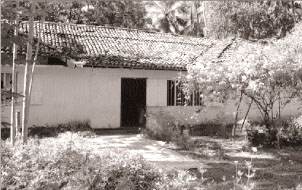 Ancestral home in Medamullana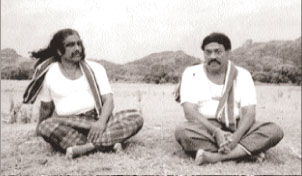 As an actor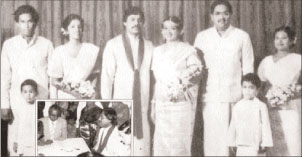 When he enters into wedlock with Shiranthi (Attesters Chief Justice Neville Samarakoon and Secertery General of Parliament , Sam Wijesinghe.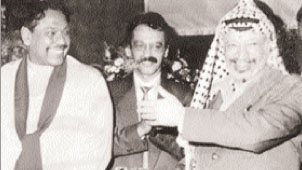 With Yasser Arafat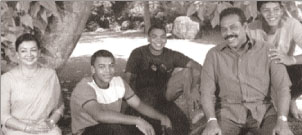 President Rajapakse with the happy family (first lady Shiranthi, Namal, Yoshitha and Rohitha)
* Mahinda Rajapaksa was born on November 18, 1945 as the third son of D. A. Rajapakse and Dandina Samarasinghe Dissanayake. He grew up in a religious background amid brothers and sisters. (Chamal, Jayantha, Chemis, Jayanthi, Chandra, Tuder, Gotabhaya, Nanda, Bazil, Rohana, Dudley, Piyasiri, Prithi, Chandrani, Gangani, Chithra and Siladari.).
Mahinda learnt Buddhism at Galketiya Viharaya in Galle.
* In 1951 he was admitted to Richmond College, Galle to commence his formal education where the future leader spent his formative years until he entered Nalanda College. At Nalanda, he played not only cricket but also football for the under 13 college football team.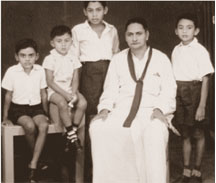 Rajapaksa family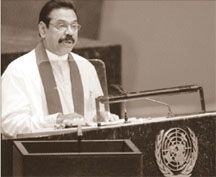 Addressing the United Nations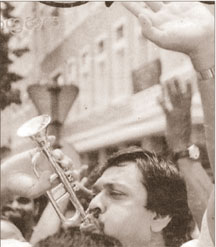 During the Jana Ghosha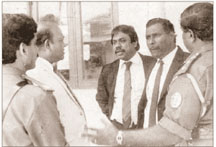 Sworn in as Attorney-at-Law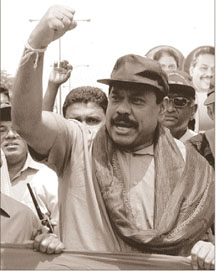 A seasoned campaigner
* In 1956, he once again changed school and entered Thurstan College, Colombo where he won the Colombo District Championship for the event putt shot and was a member of the College relay team.
* In 1975 Mahinda Rajapaksa formed the Sri Lankan Committee for Solidarity with Palestine and was the chairman for over thirty years.
* On May 13, 1983, he married the daughter of Air Commodore E.P Wickremesinghe, Shiranthi Wickremesinghe. Shiranthi was Miss Sri Lanka in 1978 and also represented Sri Lanka at the Miss World Contest.
The then Chief Justice Neville Samarakoon and Secretary General of Parliament, Sam Wijesinghe attested their wedding. President Mahinda Rajapaksa has three sons; Namal, Yohita and Rohitha. He hails from a prominent political family. His father Don Alwin Rajapakse was a prominent politician and former Member of Parliament. D. H. Rajapakse his uncle was a State Councillor for Hambantota in 1930 who started wearing the earthly brown shawl to represent kurakkan (a type of maize) cultivated by the people of the area.
* In 1970 he entered Parliament from the Beliatte constituency as the youngest MP at the tender age of 24 with a record lead of 6626 votes. * In 1973 he entered Sri Lanka Law College. He was instrumental in forming the SLFP Lawyers' Association. He took oaths as an Attorney-at-Law in 1976 and did his apprenticeship in the chambers of President's Counsel Daya Perera.
* Following the by-elections in Mulkirigala which made the exercise of franchise a mockery in the face of unprecedented terror unleashed upon the opposition by the UNP regime, Mahinda Rajapakse was taken into custody as a political prisoner and imprisoned at Magazine Prison in 1985. He spent more than three months in Prison under trying circumstances. His mother died while he was in prison and was thus unable to fulfill her last wish to see her beloved son.
* On March 16, 1992, Mahinda Rajapaksa launched the Pada Yathra (a protest march) against State-terrorism of the Premadasa regime and its political oppression.
The historic mass march similar to those launched by freedom fighters such as Moa and Mahatma Gandhi commenced at Viharamahadevi Park and reached its destination the sacred city of Kataragama in eight days. He also launched a spate of mass protests such as Human Chain (from Colombo to Ratnapura) and Jana Ghosha (mass protest movement) culminating in regime change.
In 1994 he was appointed as Minister of Labour and Vocational Training. Among his achievements as Minister of Labour are the drafting of the Workers' Charter, establishment of the Vocational Training Authority, setting up Rural Vocational Training Centres and the acquisition of Hambantota Lunu Levaya (Saltern) by Employee Trust Fund.
* Initiated a housing programme called Deewara Gammana for fishermen and their families.
* Initiated the first ever University for Oceanography known as Sagara Vishwavidyalaya.
Introduced a special banking scheme called "Idiwara Banks" for fishermen established a Coastal Guard Unit, a much needed security system for an Island nation, to stop illegal fishing activities and protect the coast of Sri Lanka. Provided fisheries communication equipment to improve efficiency through the use of technology.
In addition to the Portfolio of Fisheries, he also held the Portfolio of Ports and Shipping for a short period of three months. Within this period, he took initial steps to construct the Hambantota Harbour.
* A crusader of Human Rights, Mahinda Rajapaksa fought against the thousands of involuntary disappearances during the 1988-1989 period of terror. He complained against the gross human rights violations in Sri Lanka to the international human rights organizations including the Geneva Conference for Human Rights.
On October 4, 1999, he delivered a lecture under the title of "Involuntary Disappearances" at the Deheradunhi Human Rights Organisation in India.
* President Rajapaksa is also an accomplished actor and portrayed diverse roles including that of a General in Gamini Fonseka's Nomiyena Minisssu. In the Opposition, he became a campaigner for Human Rights and together with Manorani Saravanamuttu of Mother's Front, he launched a campaign to highlight the plight of the disappeared.
He was conferred the title of Professor Emeritus by the Vishva Bharati University of Calcutta in recognition of his record on human rights.
On April 06,2004, Mahinda Rajapaksa was sworn in as the 13th Prime Minister of Sri Lanka. As PM he initiated a number of development projects including Maga Neguma and proposed and planned " fly-overs" in Colombo to reduce traffic. He became the 5th Executive President on November 19, 2005.