Dedication led to my success - Nilmini
Some have the talent, but less success. Some have the skill with no luck. It's a rare occasion that one is blessed with everything. Nilmini Thennakoon is one such lucky woman who could thrive in life in many ways....!
The tele role she played as 'Deepthi' in the 'Doo Daruwo' teledrama has created an unforgettable image in the minds of the people. "But that was not my first tele," smiles Nilmini.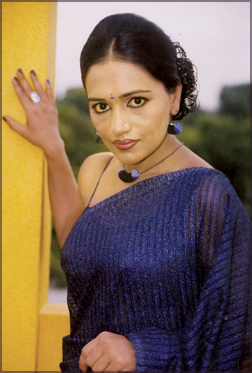 Although nearly two decades have passed since the time she stepped into the field, the bold actress is still a charming beauty. "There's no secret in my success other than dedication," she smiles.
Nilmini's very first appearance before a TV camera was when she was in grade seven at the Princess of Wales College in the 1980s. "I was studying dancing under Mrs.Vajira Chitrasena at school, and simultaneously was attending the 'Pahatharata' and 'Kandyan' dancing under a radio artiste Mrs. Chitra Kumari Kalubowila at Moratuwa. It was Mrs.Chitra who took me to the Rupavahini stage for the first time for a ballet drama called 'Sasara'," she recalls.
Nilmini has an inborn talent for dancing. "I gave little priority to my studies. Maths was my most hated subject. I could only study upto O/Ls as I gave priority to dancing and acting. But now I really regret it. Even for newcomers in the field, I advise them not to neglect their studies as it would always be better if you could at least reach up to A/Ls," she stresses.
Nilmini was a teenage school girl when she got the craze to be an actress. While she was going to her 'famous' Maths class, she got to know that the popular acting couple Sumana Amarasinghe and Roy de Silva.
One day with her friends Nilmini went to them to get her autograph signed. After seeing the charming damsel, Sumana asked her whether she liked to take part in the latest film 'Hitha Honda Chandiya' which they were to produce. Nilmini was elated. After playing a brief hartal at home, Nilmini managed to chuck herself in it. "It was a dancing scene and it was my first experience before a camera," she says.
After taking part in 'Hitha Honda Chandiya' Nilmini decided that she could achieve her target as an actress in the future. At the same time, D. B. Nihalsinghe took this mischievous teen for many of his TV Commercials. Nalan Mendis who saw her in them gave her a big role to play in his tele drama 'Passe Gena Manamali', and simultaneously fetched to act in his famous tele series 'Doo Daruwo' which was telecast through many years on the Rupavahini on Sundays at 8.30 p.m.
Nilmini won her first award as the up-and-coming actress at the Sarasaviya Film Festival in 1992. And then after sometime she won the Most Popular Actress Tele Award for six years continuously. The Best Actress Tele Award went to her in the year 2000.
"I have acted in more than 100 teledramas and about ten films so far. I took leave from acting after my daughter was born. Recently, I asked part in 'Handewa' after two and a half a years. It was directed by Sherly P. Delankawala, and I was longing to take part under his direction," she says.
Moreover, Nilmini is now concentrating in improving her 'beauty business'. Once the most loved tele star is today the owner of a successful beauty salon and a garment business. "I followed a five-month course in dress designing in France recently as it would help me immensely in my business," says Nilmini.
Whatever said and done, wherever she goes her loving daughter follows her; Shvetha. "Oh! she is my angel, my life and everything," she says and cuddles her daughter. Shvetha Mandakini is now 5 years old. "My only dream is to educate her and let her go into society as a good human being".
"Where ever I go I try to take her along with me. Playing both the role of mother and father to a child is a little difficult. But I think I have won the challenge to a great extent, as far as I think," she smiles.
A streak of sadness was visible on her face. "I still love Madhu Madhawa. He is my daughter's father. More than anything I never loved anybody else than him. I never thought my fate would be like this.
However, Madhu and I are very good friends now. I know he loves me and my daughter a lot. But what went wrong was that he and I were living in two extreme worlds. I am a down to earth person, but he is an extreme social lover," she sighs.
Though loneliness haunts her life, Nilmini faces life with courage. "There's no sacrifice that a mother cannot do on behalf of her child," she stresses.
Nilmini today follows a very stable life with a steady income. Charity is her pastime. "I am very happy about my success in my career.
My next aim is to produce a teledrama. I have already found a good script for that. It is titled 'Maaya Devi', a story of a woman who struggles to face life with courage," she concludes.