Feng-shui is in Sri Lanka....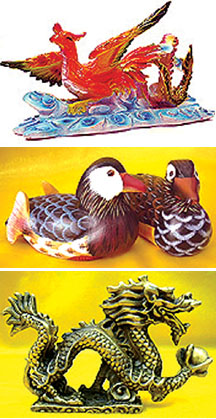 "Fortune knocks at every man's door, but in good many cases the man is in the neighbouring saloon and does not hear." - Mark Twain.
But Asiri Wanigaratne recognised the fortune knock on his door as he saw a five page article in a foreign magazine on 'Feng-shui', the famous Chinese secret method used to improve one's fortune (luck) by using the cosmopolitan energy....
It was 1996. After sitting for the A/L in Agri-science at Kingswood College, Kandy, Asiri joined a newly launched print media, and rose up to the Editor of a teenage weekly and woman's weekly. This young guy though coming from a rationalistic background, has always had his curiosity on astrology and mystical beliefs. He used to translate many foreign copies on various such interesting subjects into Sinhala. His series of articles added more colour to his newspaper.
So one day he sat down with the 'Cosmopolitan Magazine' of UK edition which he had found by chance. His intention was to translate it for his readers. The topic that appeared in one of the long articles fascinated him. 'Improve your luck by Feng-Shui'... His eyes paused at the title. "What is that?
Do Europeans also believe in astrology?," he was bewildered.
The wonderful Feng-shui secrets which have been practised only by the Chinese for more than 4000 years are not secrets to the world anymore. Europe, United States, Japan, India, Malaysia, Singapore and many other countries have already started to use them to improve their lives. "It would be an interesting topic to discuss," thought the young man.
The Feng-shui series he carried in his paper became very popular among Sri Lankan readers. So, he decided to publish the series as a book. After observing the immense fame his book got Asiri wanted to study this world famous Chinese fortune secrets as a full time student.
After spending a considerably big lump sum, he mastered the method, first in India, and then in Malaysia under Mrs. Lilian Too, and thirdly at the institute of Master Joe Yab in Malaysia.
Focal point
"Feng-shui is for everybody and for everything. The focal point of the cardinal principle involved in Feng-shui is to keep your premises neat and tidy, clean and free of any debris. The Chinese believe that then the cosmic energy (which they call 'Chi' energy) can flow through every where re-energizing the life (of living beings).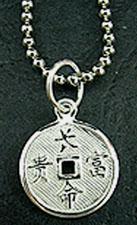 And many special symbols (in the form of ornamental or decorative item) are used to draw and centralise this energy as a certain invisible power. And this power can be used very effectively to improve your luck in wealth, health, job, studies (education of children), love and marriage," he explains.
"As an example, the Feng-shui three gold coins symbol which is placed in one's wallet or drawer (where money is kept) would multiply your financial state. Businessmen fix it onto their cashier bill book and the phone to get more business opportunities. Laughing Lord statue, the hundred bird picture and the ornamental ship with gold stuff are a few other Feng-shui symbols that bring you wealth luck," he says.
Symbols that bring luck
If one decides to apply Feng-Shui to his house or working place he should mark the eight directions of the place (eg; North, South, West, East, North-East, North-West, South-East and South-West). Each direction represents an important area of life. As an example, North represents one's job, South - Marriage and East - health (please refer the diagram below). One can mark these directions by using a compass.
After that improve the area as you wish using the Feng-shui symbols and colour codes meant for each direction and subject. As an example if you want to improve your love life, light a yellow bulb in the South-West for more than ten hours a day. If you want to develop lust or your physical relationship with your partner, then light a red bulb in the South.
"And never ever hang a single man/woman picture in your bedroom as it would bring you bad luck. If your bed is placed just in front of a mirror and if you can see yourself from it, be careful, you or your partner may tend to get into a clandestine affair soon. But, if you are a single person then move your dressing table to reflect your bed.
You will meet the Mr or Miss right soon. But once you find him/her do not forget to change the position of the mirror table as soon as possible," advises Asiri.
Secret method
Talking about this secret method which tend to bring fortune to human life seems very interesting. Hence the Sunday Observer might carry a series of Feng-shui articles with Asiri in the future. Asiri, the Feng-shui man has published about 10 Feng-shui books in Sinhala so far.
After mastering the method he came to Sri Lanka and started practising it in a nominal way, while continuing his journalism work. But, since he feels the demand for Feng-shui is getting bigger Asiri decided to start his own centre of Feng-shui.
He launched his first Feng-Shui centre not more than 10 months ago. And within a very short period of time this courageous lucky young Kandyan could increase it to five centres. Now he is the proud owner of five Feng-shui centres - Embuldeniya-Nugegoda, Mount Lavinia, Galle, Negombo and Malabe; where people can purchase Feng-shui symbols and books for nominal prices with free advice.
"Many think that Catholics do not believe in Feng-shui. But Feng-shui is something to do with cosmic energy, and has nothing to do with religion. We got such a demand from the Negombo area and that's why we decided to open a centre there as well," he says.
"However, one's merits collected in their previous births (according to the Buddhist philosophy) also seem to play a big role in this. As an example, if two persons are competing for the same target by using the same Feng-shui secrets, the luckiest one tends to win. Of course, that possibility is there. Feng-shui is a 'small medicine' that enhances one's good health," he smiles.
Asiri has been practising this since October, 1997. He and his friendly staff will be celebrating the 10th anniversary of Feng-Shui in Sri Lanka next year. To commemorate his successful decade, he hopes to launch the biggest Feng-shui Centre in South-Asia here, in Sri Lanka, next year. He imports the original Feng-shui articles from China, Thailand, Malaysia and India.
Techniques
Asiri gets updated himself by taking part in the international Feng-shui seminars every January, as some techniques in the Feng-shui method go along with the annual zodiac forecast of the Chinese astrology. Following them he conducts seminars in Sri Lanka.
After many telephone calls, Sunday Observer managed to reach this enterprising young man who was bold enough to launch a four thousand year old Chinese secret of fortune to the nation. Asiri will be going to United States and UK in December to assist a few Sri Lankan families there with the Feng-shui method.
"This method is vastly practised by the elite group of society, especially in 'Vaasthu Vidya' in housing and business premises constructions. Even abroad many big business places like; Bank of England, HSBC headquarters and Cathay Pacific Airlines in Hongkong and Body Shop in England are constructed and maintained according to this proven mystical method.
Even the former Prime Minister of Singapore, Lee Kuan Yu had got the advice of a very good Feng-shui master, a Buddhist priest, in building the top business places which apparently opened up many new business ventures that later on helped to develop the country to today's modern Singapore.
"There's no big secret! we are just using the power around us. My aim is to introduce this to the general public.
I assume it as a big service and a meritorious deed as it helps people to develop their lives in various ways," he concludes.