Sampaths colourful narration
He has shown his work at many exhibitions before making this present showing of his work any different from his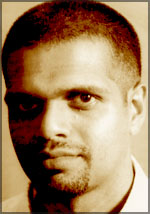 previous ones. But viewers at the preview held recently of the show currently on at Paradise Road Galleries observed that the artistes recent musings are refreshing both in colour and drawing.
A robust use of the brush in both his colourful paintings and black and white expressions gives the viewer and inside view of the artistes burning need to use his medium to express himself with unreserved clarity.
This present showing of artist Sampath Amunugama's work will continue until the 18th of this month.