An up and coming actress
Only an actor or an actress can represent any character under this sky. Once he/she is a villain, once a lover and then a politician or a beggar. A talented actor/actress should have all these qualities within him or her to spout out on a stage or before a camera.
Sometimes the society tend to measure them from the roles they play. And that depends on their dedication towards the career which mingles with the talent and destiny.
Yamuna Sumudu Kumari Weerasekara has taken part in 30 odd tele dramas, three films and a large number of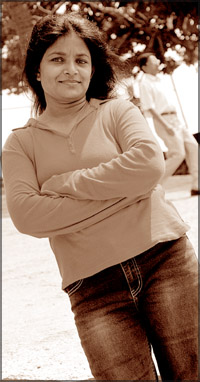 stage dramas since 1984. "Some of my friends told me that they were going to participate in a stage drama workshop of Sunil Costa. I was just out of the school. I also joined along with them at the workshop. This was how I got on to the popular stage with a drama," she recalls.
However Yamuna was a Calypso Band singer from the age of twelve. Her still photographer father introduced to the Calypso society after learnt her talent for singing. "I have not studied music or gone for formal voice training. It's all in born talents.
I compose lyrics. I have a collection of more than 50 songs written by me. So I have an idea of releasing a CD, one day in the future, but that will be after having a better vocal training, definitely," she hopes.
Yamuna poses an extremely benevolent spirit with sensitive nature. Dancing and singing is her pastime. "I'm married and has two daughters and a son. My eldest in 15 and youngest is just seven years. I have a very supportive hubby and parents who shoulder all the chorus during my absence with shooting," she says.
'Sankalpa Kala Kawaya' was the drama association she had organised with a few of her friends who also had the craze in acting. 'Niyatha Vivarana' was their very first stage production which followed 'Manusaththu'.
And 'Ridi Poru' was her first drama on the small screen. "Acting is not profitable. My family members sometimes grumble over that as we rarely can expect a better income. But now 'acting' has enter into my blood vessels. So there's no moving away from acting," she laughs.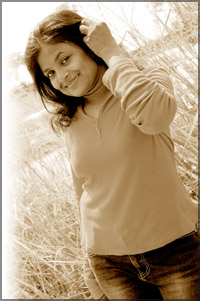 Mo-bike is her favourite transport so that she can reach home at any hour of the day. "I am a very sensitive person, and have never used glycerine to get tears. When I get into the mood I eventually could shed tears," she explains.
Yamuna loves children and elders. "They are in the extreme age that need love, care, kind and merciful treatment from the society," she believes.
Yamuna won a Merit Award for her role played in 'Sakunthala' stage drama in 2004.
Udeni Alwis, Kanchana Mendis, Anula Wanigasuriya and Donald Jayantha are among the artistes she is grateful for giving her assistance to come up in the field.