31st Sarasaviya Film Festival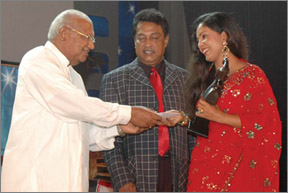 Best actress's Award received by Dilhani Ekanayake on behalf of Chandani Senevirathne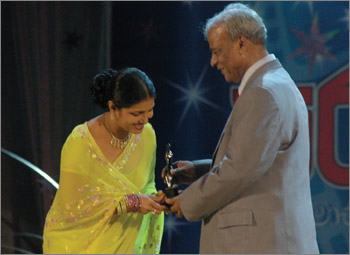 Popular actress Meena Kumari receives the merit award for her performance in Asani Warsha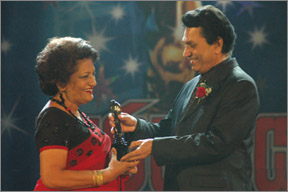 Award for the most popular film in 2006 Hiripodawessa received by the producer Soma Edirisinghe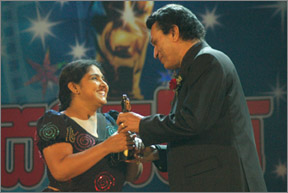 Renuka Balasuriya receives the award for the most popular film in 2005 Samanala Thatu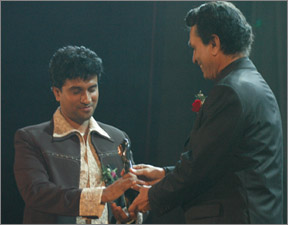 Channa Perera receives the Most Popular actor's award for 2006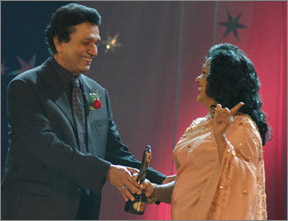 Most popular actress's award received by Malani Fonseka on behalf of Sangiha Werarathne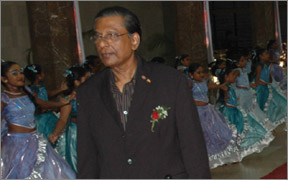 D. B. Nihalsinghe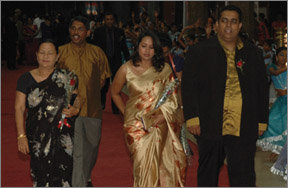 Damith Fonseka arrives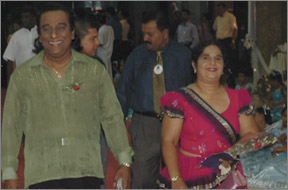 Abeywardene Balasuriya and Niranjala Sarojini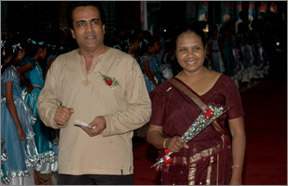 Buddhadasa Vithanachchi
The Sarasaviya Film festival which celebrates its 31st year is a mother of all film festivals in Sri Lanka. Having been taken off the ground as far back as 1964, it remains though it had its own ups and downs, to its founding ideals of fostering and appreciating the Sinhala cinema and also as the jewel of Sri Lankan film festivals.
At the early stages of the film festival, the Sarasaviya was held in locations away from the city fearing that the noise would disrupt the proceedings. Over the years, it has become one of the much-awaited events in the cultural calendar for both the film viewers and stake holders in the medium.
Some critics are of view that the sixties were the golden era of Sinhala cinema. It was in the sixties that the Sinhala cinema which was shot entirely at studios, were taken out of the studios with the emergence of Rekhawa in 1956 as the first artistic film. Rekhawa not only led to the emergence of artistic and classical Sri Lankan cinema but also paved way for generation of film makers from Dr. Lester James Peries to contemporary film makers.
Piyasiri Gunaratne, G. D. L. Perera, Titus Totawatta, Tissa Liyanasuriya, Siri Gunasinghe, Sugathapala Senerath Yapa, D. B. Nihalsinghe, Dharmasena Pathiraja, Ranjith Lal, Vijaya Dharmashri and Amaranath Jayatilake, followed the footsteps of the forefathers of Sinhala cinema.
The Sinhala films were nourished by generation of talented actors and actresses who were on par with their counterparts in the world cinema. Gamini Fonseka, Joe Abeywickreme, Tony Ranasinghe were outstanding in portraying complex characters and became screen idols while Malini Fonseka, Irangani Serasinghe, Swarna Malawarachchi, Nadeeka Gunasekara, Vijaya Kumaranatunga, Somalatha Subasinghe, Kaushalya Fernando, Wasanthi Chathurani played leading women roles.
From the very inception of the film festival, the Saraviya Film festival presented awards for best director, the actor, the best actress and the most popular actor of the year.
The best director awards include Dr. Lester James Peries (Gamperaliya) in 1964, Mike Wilson and Tissa Liyanasuriya (Gatavarayo) in 1965, Tissa Liyanasuriya (Saravita), Lester James Peries (Sanasuma Kotanada), Siri Gunasinghe (Satsamudura). G. D. L. Perera won the best director>s award for 'Golu Hadawatha'.
Titus Totawatte (Hadaya) in 1980, Sumithra Peries (Ganga Addara), Gamini Fonseka (Sagarayak Meda) 1982, Tissa Abesekara (Maha Gedara), Wasantha Obeysekara (Dadayama), Sumithra Peries (Maya), Dharmasiri Bandaranaike (Sudilage Katawa), D. B. Nihalsinghe 1987 (Maldeniye Simiyon), Tissa Abeysekara (Viragaya), Sumithra Peries (Sagara Jayala Madi Haduwa Nuba Singda), Paraakrama Niriella (Sirimadura), H. D. Premaratne (Palama Yata), D. B. Nihalsinghe (Kelimadala), H. D. Premaratne (Kulageya), Vijaya Dharmasri (Gurugedara), Gamini Fonseka (Nomiyena Minissu), H. D. Premaratne (Seilama), Sumithra Peries (Lokuduwa) and Dharmasiri Bandaranayake's 'Bawa Duka' and in 2002 Benet Ratnayake won the best director for 'Asvasuma' followed by Wasantha Obeysekara 'Salelu Varama' and Inokaa Satyangani's 'Sulan Kirilli' (Wind Bird). May the Sarasaviya film festival grow from strength to strength and hopefully would improve its content, sustaining an informed film culture.