Arts
Review:
The Tender Trap (Sankranthi) Room for maturity
Sankranthi, a film by Anuruddha Jayasinghe which hit the silver screen, is a film woven around a primatologist, Dr.Gerad (brilliantly portrayed by W. Jayasiri) his research assistant Sunimal (Bimal Jayakody) and his young wife Pam (Sangeetha Weeraratne).
During his research jaunts, Dr. Gerad observes a growing attraction between his young wife Pam and handsome research assistant Sunimal. He wants to prove that the similarities of erotic and emotional relationship between male and female among the humans and apes. He sets a trap where his wife and research assistant get involved without their knowledge. However, the gentle trap ends in tragedy.
Although the film has, somewhat, excelled in photography and in terms of sound effects, it seems that both the director and the script writer have not paid much attention to developing characters to their sequential and logical ends. The purpose of the story is almost obscure and incomprehensible as the story develops into a tragic ending.
The letter opener which Gerad bought as a souvenir for Sunimal that was kept on a table in Sunimal's room, Pam's encounter with Sunimal who is just after a shower and the attraction between Sunimal and Pam which is implied from the very first frame of the film and Gerad's insistent that Pam should take Sunimal for a jaunt, are set-scenes to facilitate the final scene of tragedy rather than being part and parcel of the story.
The plot if it had been used to portray incongruity between the father figure Dr. Gerad and his young wife Pam in terms of age and sexual potency, resultant crisis in the institution of family and the sexual fulfilment that Pam tries to derive from Sunimal, would have been a matured work of art that would have lingered in the mind of the audience.
W. Jayasiri, portrayed his role brilliantly, shedding light on other characters. Bimal Jayakody as Sunimal also played his role convincingly. His facial expressions have also been natural and well-blended into the scenes.
Hemasiri Liyanage, though he played a minor role as a bungalow keeper and cook, was natural in his portraying of the character, especially at critical scenes such as when Dr. Gerad comes to spend a night in the bungalow accompanied by his young wife Pam and research assistant Sunimal.
Sangeetha Weeraratne, who played the lead female role as Pam, though natural in some scenes, has not been able to maintain it throughout the film. Perhaps, time is ripe for her to come out of her over-acting in portraying characters and let her inborn talents flourish so that it could be of benefit to Sri Lankan cinema.
Music Director Navarathna Gamage, Art Director Welegedara Ranasinghe made their contribution to the success of the film as the sound effects used bring out the emotional state of the characters.
---
Music maestro Naushad Ali remembered today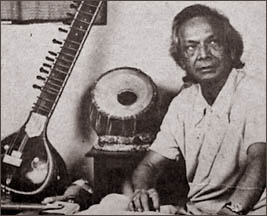 Naushad Ali's, was one of the first to introduce sound mixing and the separate recording of voice and music tracks, in playback singing. He was the first to continue the Elute and western musical instrument clarinet, the Sitar and Mandolin in film music.
He also introduced the Accordion to Hindi film music and was among the first to concentrate on background music to extend character's moods and dialogues through music. But perhaps Naushad's greatest contribution was to bring Indian classical music into the film medium.
Many of his compositions were inspired by Ragas and he even used distinguished classical artists such as Ustad Amir Khan and Pandit D. V. Paluskar in the film 'Baiji Barwa' (1952) and Ustad Bade Ghulam Ali Khan in the film 'Mughal-E-Azgam' (1960).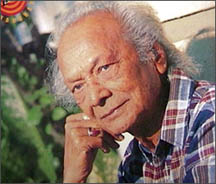 The film 'Baiju Bawra' demonstrated Naushad's grasp of classical music. To quote India's greatest playback singer Lata Mangeshkar who sang for him in that film, "The music he composed for 'Baiju Bawra' surprised even me. It was entirely different from what he had done before. Different Ragas were used for different situations and the purity of the Ragas were maintained to the greatest possible extent". Today is a year since the demise of this great music maestro.
He is fondly remembered for his memorable scores to movies such as: Rattan (1944), Anmol Ghadi (1946), Shahjehan (1946), Keemat (1946), Natak (1947), Dard (1947), Elaan (1947), Anokhi Ada (1948), Mela (1948), Andaaz (1949), Dillagi (1949), Dulari (1949), Babul (1950), Jadoo (1951), Deedar (1951), Aan (1952), Baiju Bawra (1952), Shahab (1954), Uran Khatola (1955), Mother India (1957), Mughal Azam (1960), Ganga Jamuna (1961), Mere Mehboob (1963), Dil Diya Dard Liya (1966).