Love and appreciation
Kalyani talks about life with Professor W.D. Lakshman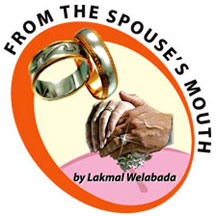 The serious looking lecturer who was said to be 'not interested in girls' was delivering the first Econ lecture for the freshers of that year at the Peradeniya campus.
The new comers who thought the young man was one of the seniors did not bother to write a sentence he was teaching.
The freshers were so fed up of being ragged by seniors and were having some breathing space at the lecture hall after facing a heavy verbal harassment of the 'Second-years'. After their gruesome experience, the freshers were watching the face of the young man who was giving the lecture. "What a man," thought Kalyani frowning at him.
The next was a tute class. Kalyani was bewildered when she saw a 'C-minus' on the top right corner of her tute. "Oh! why is this?" she exclaimed. The studious fresher who had never got 'minus' marks in her life was feeling terrible. She frowned at the young tutor once again. He was peacefully at his desk attending to some work bending his head down.
By now the freshers knew the small made young man was not another senior, but the youngest lecturer W.D.Lakshman of the Department of Economics.
The fresher Kalyani Sirisili Munasinghe was from Ihalayagoda, Imbulgoda, Gampaha. As the only child of her parents, Head Master, D. M. Munasinghe and Isebella Munasinghe, a teacher, Kalyani had had a very happy and secured childhood. She had her primary education at Rajasinghe Maha Vidyalaya, Imbulgoda, and then entered Rathnavali Balika Vidyalaya, Gampaha.
"I was the only child. When I was small I thought it was great. But later regretted it. When you don't have siblings; oh! that feeling is different. The worst part of it was that I really missed the rifts that would be common among siblings..
That was because I was scared to fight with my cousins and friends though they were in abundance. I thought they would not come back to me if I had a dispute with them. You know, you don't have to get scared to fight with your own sisters and brothers as they 'will not' leave you. So I really missed that," laughs Kalyani.
"I was very close to my mother. My father was a good person, but was very strict. When I got my report card at the end of the term, I had to produce it as I entered the house. Otherwise Thatha suspected some thing is wrong. However my "teacher parents" influence provoked me to further my studies," she says.
Sinhala, Economics, Pali and Education were her subjects at the 'Pera' university. Kalyani passed out as a graduate of Bachelor of Education in 1968.
"I'm a person who talks a lot. But he doesn't. However I used to interact with him as he was my lecturer. But he was a great critic. He would hack one's tute from top to bottom. He looks for perfection in every aspect when marking a tute. And he is still like that," she says.
Kalyani was at lunch at the Pera lunch hall when one of her male batch mates came to her to join her. "You know Kalyani, I have something to tell you. It is about Mr.Lakshman," he said. "Oh, what's so especial about him?" she was not bothered. "He seems to be interested in you," he declared.
Kalyani and her room-mate were invited to go for a film at the Regal Cinema, Kandy. Among the male batch mates, the young lecturer who 'doesn't like girls' was also there. Kalyani still doesn't know whether it was a planned mission. But it was the first time that the two got the chance to talk freely.
Weligamage Don Lakshman was born in Mihiripanne, Galle. Lakshman was the third of four children of the business family of Mr. and Mrs. Porolis de Silva. He had his education at the Vidyaloka College, Galle, and was the Head Prefect at school.
The Marxist Economist didn't have any other desire other than engulfing himself in books, newspapers and tutes; collecting and updating his knowledge of the past and current economical occurrences of the country and the world. His knowledge was universal. In addition to that Lakshman was very much involved in politics at the university. He was a Leftist.
"My parents did not give their consent at once.. Lakshman was preparing to go to the UK. I was the only child, and my parents were so upset over this idea. They were so possessive and wanted to give me in marriage to a person who would stay in Sri Lanka through out," she reminisces. However their 'Prem Tharangaya' (love) had a happy ending. Lakshman and Kalyani got married on September 18 in 1968.
"We were to fly to UK for his PhD at the Oxford University. We had to sacrifice our honeymoon as we were running to and fro collecting our air tickets and getting ready for the flight," she recalls with a smile.
"As everybody knows, Lakshman rarely shows his emotions. The only time in my life that I saw him crying, was when we were setting off to the UK. He fell down at his father's feet and cried like a little child. Even I was helpless. And it was his brother who raised him to his feet," reminisces Kalyani.
While Lakshman was studying, Kalyani joined the Oxford Press as a Statistician. When they returned to Sri Lanka they were proud parents of two sons, Harsha and Rajith. Iresha, their only daughter was born later.
Prof. W. D. Lakshman was the Dean of the Faculty of Economics at the University of Colombo, and held the post of the Vice Chancellor at the same university from 1995 to 1999. He was honoured with the Deshamanya title in 2005.
Kalyani became a teacher. After teaching in the outstations for sometime, she came to St. Anthony's Girls' School, Kollupitya. "The vacancy was for a Commerce teacher. I had done only Economics. I was on the fence and didn't know whether to accept it or not.
But then I remembered Educationist, Prof. J. E. Jayasuriya's words. 'Whatever the subject is offered to you, as a teacher you should be able to accept it and teach. If you are not familiar with the subject, learn it while teaching'.... So I also accepted the challenge.
One of my husband's students, Ramya, who was also a lecturer at the Colombo Campus, promised to teach me Accounts and Commerce. I enroled to do CIMA, and successfully did the first two parts. So while learning I taught," she smiles.
Prof. Lakshman got sabbatical leave once, and the whole family was able to stay in Japan for 9 months. Kalyani used this opportunity to learn Japanese. "And later when I got the appointment as a Commerce teacher at Devi Balika Vidyalaya, Colombo I was able to introduce Japanese language to the A/L stream. I taught Japanese voluntarily.
Later I was offered a scholarship to Japan, and it provided me the opportunity to get the paper qualifications to teach the language," she recalls.
Mrs. Kalyani Lakshman was a popular teacher wherever she taught. She rendered her service as the Deputy Principal of Lindsey Balika, Colombo and Principal of Yasodhara Balika, Gampaha, and retired after serving as the Principal of Devi Balika Maha Vidyalaya, Colombo for 9 years.
Mrs. Kalyani Lakshman, more than a teacher or a Principal was a friend to her students. And that is why she is loved so much by all her students and fellow teachers.
After recovering from a critical period in life due to a malignant illness for nearly a year, today Kalyani spends an extremely serene and happy life. "I'm really happy when I think of how I could recover from my illness so fast.
Medication, meditation and the nursing rendered to me by my family along with their love and care might have been the facts that pulled me out from danger. My three children and husband were very strong and never let me fall mentally. They were like four pillars around me," she reminisces.
Question : Prof. Lakshman is known as a well learned figure who talks little. What kind of a perspective do you have regarding him?
Kalyani : He talks less in general. But if he falls into a topic that interests him he would go on talking. He is a bookworm. Even when he comes home he prefers to spend most of his time in his library. So first thing I did for him after I got retired from work and got recovered from my illness was, giving him a library at home (laughs).
Now all his books are kept in order, and he has easy access to them (laughs). Unlike the distance I had with my father, my husband and my children are having a close relationship among them. Children do not go through me to him. But when it comes to a social obligation I have to be behind him.
He never remembers or bothers to take part in functions or other social activities. Somebody has to push him. Also he would see and point out short comings, but rarely appreciates or admires things.
Though he is a serious critic in work when it comes to helping or assisting somebody (it can be his student or friend) he would push that person until he or she becomes successful. That is his greatest hobby which I really admire in him.
The Lakshmans' residence at Kotte reminds me of a Buddhist temple. The calm and tranquil surface which prevails there gives a sense of peace to whoever enters their home.
"I lead a very spiritual life now. Do you know, what my husband's surprise gift to me for last year's Poson Poya Day was? It was a set of the 'Thripitakaya'. I have been reading them. Since I have done Pali it's easy," she says.
The Ikebana floral arrangements done by Kalyani enhance the blissful ecstasy of their residence. "I learnt Ikebana when I was in Japan. When you see an Ikebana arrangement it gives you peaceful pleasure. It's like meditation as an Ikebana arrangement carries a deep sober meaning," she says.
All three children of the Lakshman couple today hold doctorates. Their sons, Dr. Harsha Lakshman is in UK and Dr. Rajith Lakshman is attached to the Department of Economics of the University of Colombo.
Their only daughter Dr. Iresha Karunaratne is attached to the Department of Sociology at the Colombo University. Prof. W. D. Lakshman and Mrs. Kalyani Lakshman who are today the grandparents of four are leading a tranquil life.
Rendering his utmost service to the country on an academical level for many decades Prof. Lakshman retired from his services last week.
"My wife has been dedicated to us, the family, throughout," was the one and only sentence Prof. Lakshman said about Kalyani. But those few words declared a lot ; sincerity, love and appreciation.