35th Death Anniversary today:
Dudley Senanayake - the all-time gentleman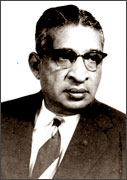 I see the late Prime Minister Dudley Senanayake as a leader with an exemplary character, which combined with a rare combination of intellect and human kindness.
No one detested or envied him - whatever aspect of his life one looked at him or be he a rightist or leftist extremist, social democrat, Buddhist, Hindu, Muslim or a Christian.
The massive crowds thronged to Colombo to pay last respects to him from the day he died up to cremation, showed the manner in which he was revered by the people of Sri Lanka.
I doubt very much whether any single able bodied person kept away from visiting Colombo to pay respect to him. He was undoubtedly a people's leader in every sense of the word.
No one will also find the manner in which thousands volunteered to host the massive crowds, which came to pay homage to him by offering free meals and refreshments.
When Dudley was a member of the State Council, there were many instances where he did not see eye to eye with his father D. S. who was then a Minister in the council.
State Council reports prove that he opposed many a proposal made by his father, according to his conscience. On one such occasion he wrote to his father "D.S." thus:- "Dear father, the two of us are under the same roof. As your son I find it difficult to act in this manner. Sometimes I cannot agree with some of the proposals made by you to the State Council, on behalf of the Board of Ministers. On many occasions I have to steadfastly oppose you. Such a thing happened today also. It caused me severe mental distress. So I have decided to resign from the State Council."
Replying this note D. S. Senanayake wrote as follows:- "Although you are my son you have full freedom to oppose me at any moment. I brought you up and educated you to enable you to be an independent man and act according to your conscience. I am proud that you have been able to express your views before the State Council in a fearless and forthright manner. It will never harm our relationship as father and son."
Isn't this exchange of views between father and son a good example of democracy to present day politicians?
The manner in which Dudley Senanayake faced the jibes, criticisms and obstructions made against him by the Opposition after the 1970 election defeat without any malice or hatred is clearly explained in Parliament subsequently on 31st May 1973.
R. Premadasa said: "Even at times when most virulent personal attacks were levelled against him he was able to act without any malice towards such persons. At times when he was severely criticised by certain MPs, I have seen him talking to such MPs in all friendly manner during tea time. I know that even Mr. Speaker could recall such instances."
Speaker: "Name the MP"
Premadasa: "I know how much honour and respect he had for that woman MP. I remember that woman MP severely criticising and obstructing him one day. His only retort was "what how funny she is". His good qualities are undoubtedly a true example for all of us."
During my student days in latter part of the 1960s and early 1970s, I loved to visit Parliament and listen to Dudley Senanayake. There was pin-drop silence in the House whenever Dudley addressed it. I still vividly remember the meaningful and interesting responses Dudley made amidst vociferous obstructions and criticisms levelled by persons in the calibre of Felix Dias, Maithripala Senanayake, N. M. Perera and Bernard Soysa as well as Stanley Tillakeratne and Vivienne Goonewardena.
In politics Dudley was a gentleman in the true sense of the word. I can still recall a personal experience I had in this regard. It was the early part of the 1970 decade. When following the UNP election defeat, people such as J. R. Jayewardene were moving the idea of the UNP joining hands with the Government to work together.
At the UNP working committee meeting held in the upper floor of the old Siri Kotha building in Kollupitiya there was a resolution "condemning J.R.'s proposal to betray the party by joining hands with the Government".
When JR walked out of the working committee in protest, only A. C. S. Hameed followed him. Down stairs and the immediately surroundings of Siri Kotha was chock-a-block with party members and supporters.
The angry party opponents started jeering JR as he came out of Siri Kotha. Dudley who was in the top floor heard this and made a bee-line towards the ground floor and silenced the crowd and took JR to his car and allowed him to leave the premises without any incident.
I saw this action of Dudley in my own eyes as a member of the UNP student organisation. What a difference from today when a party member expressing dissenting views against the leader would not only be heckled by others but also receive even third grade treatment while the leader himself will turn a blind eye to show that he knows nothing about it.
During the time the UNP faced the election defeat in 1970 I was still a student attending Ananda College, Colombo. A team of students including myself got an appointment to meet Dudley through the good office of UNP youth league General Secretary Jinadasa Niyathapala.
During the meeting we requested Dudley's permission to form a UNP student organisation. Dudley's response was "you all are still students. It is not good for you to indulge in politics. First do your studies well. When you come back after graduation we will definitely offer you a place in the party".
It will do good for some present day politicians who try to ride to power on the backs of innocent schoolchildren to learn a lesson from the true political policies of Dudley Senanayake.
The UNP power base among the Jaffna populace weakened when the UNP too embraced the 1956 Sinhala only politics later. Senior UNP Tamil leaders like Nadesan began to leave the party.
Dudley who took over the UNP leadership once again and corrected that fault by establishing close links with Tamil leaders like Chelvanayakam and Thiruchelvam and trying to enact laws giving rightful place to the Tamil speaking people.
But certain traditional politicians in the country staged protest campaigns shouting communal slogans such as "Dudleyge bade masala wade", and sacrificing the life of Ven. Dambarawe Ratnasara Thera and we were denied another historic opportunity to forge communal amity in this country.
Dudley Senanayake was a very rare and great politician in Independent Sri Lanka who was never had a craze for power. When a coalition of parties led by the UNP swept for power in 1965 Dudley agreed to step down and hand over the premiership to C. P. de Silva as a mark of gratitude towards his service towards bringing down the leftist coalition government in 1964. Such magnanimous politicians of the calibre of Dudley, is a rare commodity today.
Dudley's decision to turn down the opposition leader's post and attended privileges following the UNP defeat in 1970 and handing it over to J. R. Jayewardene, prove the mettle of Dudley's character. He was a sensitive politician. During his life we did not see any instance where he tried to grab power or hold on to power in an unfair manner.
The lives lost in the 1953 Hartal caused him shock and grief. He bade good bye to the premiership and left Temple Trees for "Woodlands" showing that he had no craze to cling on the power any more.
His style of sensitive politics is a fine example for some of the present day politicians who try to remain in power through violence by hook or by crook, unleashing violence and with absolutely no regard to the damage cased to others.
I consider Dudley as a Dharmasoka reborn in Sri Lanka. Dudley who closely associated himself with the Maha Sangha and Buddhist temples was a benevolent leader who wanted to do good for every one. He also tolerated other religions, beliefs and had a close rapport with Christian, Hindu and Muslim clergy too.
Dudley refused to don the shoes of the Prime Minister following the death of his father without obtaining a mandate from the people. So following the demise of DS he moved to seek a fresh mandate by dissolving Parliament and going for polls proving that he is a true democrat.
During his tenure as Prime Minister he improved the country's economy by obtaining the services of economists such as Dr. Gamini Corea.
During his tenure from 1965 to 1970 he entered his name into history books as a leader who brought stability and economic progress to the country by entrusting agricultural development to late M. D. Banda, industries to late Philip Gunawardena and the services sector to late J. R. Jayewardene.
Dudley followed the foot steps of the Senanayake clan who spearheaded the last epoch of the independence movement by sacrificing time, energy and wealth on behalf of the country and the bank balance he had in his name at the time of his death is no secret to the nation.
He was a true leader who did not live two types of lives and the Sri Lankan people loved him dearly from the core of their hearts. He was a people's leader who was adored by all Sri Lankans notwithstanding religious, communal or other petty differences. He was affectionately called "Bath Dun Piya" (father who offered free rice to the nation).
May more Dudley Senanayakes be born among us to make Sri Lanka a proud nation in the world.