Permanent cures for diabetes, heart diseases, paralysis
Miracle healer: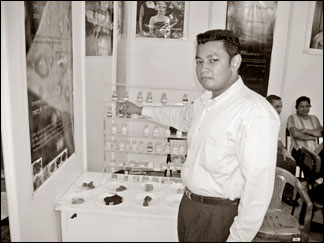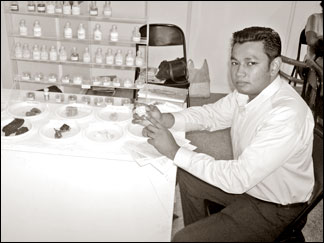 Introducing a medicine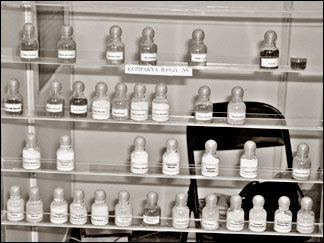 Oxides another medicine
Diabetes, heart diseases and paralysis can be permanently cured, says 31 year old Ayurveda Pundit Dr. Seevali Bandara.
He says that the basic tenets of this new development in Sri Lanka, though it had been practised from the times of the ancient kings, are that these dreadful diseases can be permanently cured from metals dug from the earth, a science that is known as alchemy.
The medicines from the earthly metals are gold, pearls, mercury and silver and a special medicine called "Silajith" made out of ground stones from rocks in India and Pakistan
The mechanics behind the permanent cure of diabetes is that when the tablets are orally administered, the gold in the tablets help cure the damaged beta cells in the Islets of Langerhans in the pancreas which is the cause of diabetes, Dr. Bandara told the Sunday Observer in an interview.
This is in sharp contrast to western medicine which merely regulates the blood sugar levels through tablets, he said.
Mineral medicines and remedies, he prophesies, are therapeutically effective when they are administered orally in small doses unlike when they are prepared from plant extracts which is now relatively unknown in Sri Lanka, he said. The same principle applies even in the case of cardio-vascular diseases.
Relieving what he believes was the most sensation life time experience, he recalled how he was called to the rescue of a 70 year old grandmother who had developed a sudden heart block at the Homagama Hospital. She was in a coma. He had been called at around 7.30 p.m. The doctors in the hospital had given up. They expected her to die by morning!!
He rushed to the hospital by bus and orally administered a powder on her lips. This was done at two hour intervals. The powder had ingredients of gold and pearls. Lo and behold!! By 2 p.m. the following day, she had regained her conscience!! In two days from then, she had walked back home!!
In such instances of heart blocks, the doctor has to be quick and that is what happened at Homagama, he said with conspicuous pride.
Similarly he has cures for kidney ailments which are essentially caused by drops in the levels of serum, Creatin and micro albumin, which are jointly cured by gold and Silajith a Sanskrit medicine extracted from the rocks in India and Pakistan.
Sometimes these medicines are imported from India and Pakistan as finished products where as in other instances, the raw materials are imported here and the finished product is made here.
However, the beauty of it is that the medicine can be taken at home in contrast to being hospitalised where one has to go through the trauma of anaesthesia and surgery.