Home Guard wins Daihatsu car in Nokia competition
A Home Guard from the North Central Province won a brand new Daihatsu Mira car last week at a raffle conducted by Nokia during a Special Consumer promotion held from March 17 to April 30.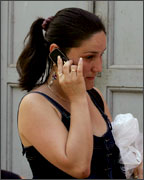 The winner was K. Palitha Kodituwakku (33), a Home Guard of Aralaganwila in the Anuradhapura district.
He was presented with the keys of the car worth over Rs. 2.6 million by Nokia's National Sales Manager for Emerging Asia, Kent Sitaca at a ceremony held in Colombo last week. Kodituwakku told the Sunday Observer that he was a resident of Aralaganwila and resides at the third mile post with his wife and two-year-old son.
He had been in the forefront of protecting his village after joining the Home Guards 13 years ago.
Kodituwakku decided to purchase a Nokia cellular phone 2310 from an authorised dealer in the area when he learnt that Nokia was launching a Special Avurudhu Scheme from March 17 to April 30.
He purchased a mobile phone on credit, under a special scheme for Home Guards in his village. Kodituwakku thereafter purchased a Nokia cellular phone for Rs. 7,900 and entered the Nokia competition.
His dream came true when he became the grand winner. Kodituwakku said he was poor and had not decided what to do with the car that he won. He thanked Vice Admiral Sarath Weerasekera Brigadier Rajaguru and Chief Inspector Chandrapala for their assistance. He said he was happy to be the grand winner even before the first instalment of his Nokia phone was deducted from his salary.
Nokia's National Sales Manager Kent Sitaca said Sri Lanka was an important market for Nokia in the Asian Pacific region.
The Avurudhu promotion was designed to raise the awareness of buying Nokia authorised products and rewarding consumers, he said.